West Rim Things to Do

I can't think of many places that offer a better combo of gorgeous scenery, Native American culture and history, fascinating geology, and downright thrilling excitement! Actually, now that I think about it, the South Rim might be the West Rim's main rival - but the West Rim offers some things to do that just aren't possible at the South Rim.
Helicopter Landing Flight to the Bottom
For one thing, the West Rim (also called Grand Canyon West) is the only place in the entire canyon where you can take an exciting chopper flight below the edge and actually land on the bottom! It's a unique experience and something that government regulations just don't permit at the South Rim. There's nothing that's quite like seeing the walls of the canyon towering 4,000 feet above you.
While you're at the bottom you can enjoy a Champagne picnic and walk along the banks of the Colorado River. It's a pretty awesome experience, especially when you realize that the Colorado is responsible for creating this 270-mile-plus canyon in the first place. It took countless millions of years, but that's the power of water for you! Once again, this is one of those things to do that's possible only at the West Rim.
Can the "bottom-lander" can be topped. Yes! There's now a trip that lands at the top and the bottom of the West Rim and includes a Colorado River boat ride for good measure. This is without a doubt my favorite tour because it leaves no "stone unturned!" Do this one and you've achieved something that puts you in with a group of elite travelers who demand everything and settle for nothing but the best. Need more persuading? OK, this trip also includes VIP access to the inimitable Skywalk!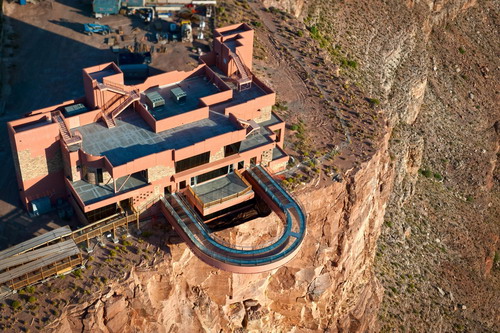 Grand Canyon Skywalk
The Grand Canyon Skywalk (also called the Glass Bridge) gives that chopper flight down to the bottom a good run for its money, though. This is another one of those things to do that's only possible at the West Rim.
Grand Canyon West is owned and operated by the Hualapai Indian Tribe, and they're the ones responsible for operating and maintaining this unique engineering marvel. Basically a horseshoe-shaped cantilevered bridge made of transparent glass, the Skywalk is hands-down one of the top attractions at the West Rim. To underscore this point, check out these quick facts:
40+ specially made glass panels costing $250,000 each make up the deck;
Built to withstand a Magnitude 8 earthquake & multi-directional 100 MPH winds;
Can support the weight of 71 fully loaded jumbo jets!
Standing at the Glass Bridge's apex, you'll be 70 feet past the canyon edge and close to a mile above the bottom! Here, the views of Eagle Point and the National Park in general are beyond spectacular. And that's in addition to the fact that you'll be seeing the river nearly a mile below your feet! Taken together, I can assure you that it's an experience you'll never forget.
More Points of Interest
The West Rim has plenty of other things to do besides these three suggestions, but they're definitely a couple of my favorites. West Rim helicopter tour passengers will also fly over Eagle Point, one of the rim's best places for sightseeing and the location of an authentic Hualapai Indian village. Hualapai Ranch (the site of a recreated "Old West" town where western re-enactments are held) and Guano Point (which, believe it or not, used to be the site of a bat guano mine!) are two other highlights you'll see during a West Rim chopper tour.
En Route!
The flight from Las Vegas to the West Rim is quite spectacular in and of itself. Most helicopters take off from airports based in the metro area and all fly the same course, which includes:
Lake Mead - The largest man-made reservoir in the United States;
Hoover Dam - A monumental structure built during the Great Depression;
Fortification Hill - A extinct volcano with a distinctively black cone;
Grand Cliff's Wash - The dramatic entry into Grand Canyon airspace.
Flight time to Grand Canyon West is less than 60 minutes, with cruising speed reaching just over 200 MPH.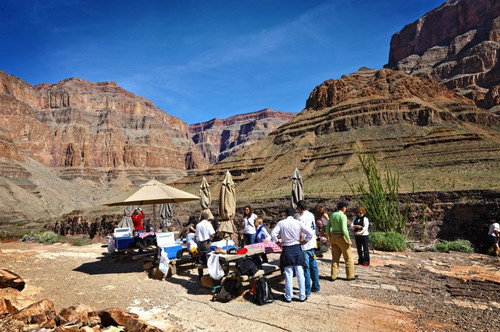 Types of Choppers
There are three kinds of helicopters used on these tours:
Bell Ranger
A-Star
EcoStar 130
I prefer the EcoStar. It's the newest and most modern of the bunch. It features a cabin that's 25% larger than its competitors and it's outfitted with stadium-style seats (clear views for everyone!) and a wraparound windshield for magnificently uninterrupted panoramas of the canyon. Lastly, the EcoStar comes with state-of-the-art climate control and a tail rotor that significantly cuts down noise. Before this gets too "geeky," let me just stay that the EcoStar is equipped with all the right features wherein you'll get a ride that few other aircraft can touch with a stick!
Weather
The West Rim is hot. During summer, temperatures break 100 degrees daily. Put another way, the climate is a lot like Las Vegas, but more extreme. By comparison, the South Rim, which sits at an elevation of 6,500 feet, is temperate. My advice here is to pack the following during those months when the rim is scorching:
Hat
Sunglasses
Sun block
Water
Lightweight sleeved shirt
Winters are mild compared to the South Rim, which is subject to snow showers. Here, I'd wear a hat and a lightweight jacket and pants. It's not a bad idea to bring a windbreaker, too. The barren desert throws up a lot of glare so I'd also bring sunglasses.
RSVP
I want to put to rest an assumption that travelers have that it's a good idea to purchase their helicopter tour at the destination. Bad idea. Why? Because:
You won't get the flight times you want
You wont get the departure date you want
There's a strong chance that flights will be sold out
You'll pay more
The way to avert all this is to book in advance. I recommend no less than a week. You might be able to get away with 72 hours (3 days), but why risk it. Same-day bookings are just asking for trouble so stay away from them. Those who do try end up paying out the nose to get on anything with a propeller. You and the Grand Canyon are too good for this. Book ahead of time and guarantee yourself the flight of a lifetime.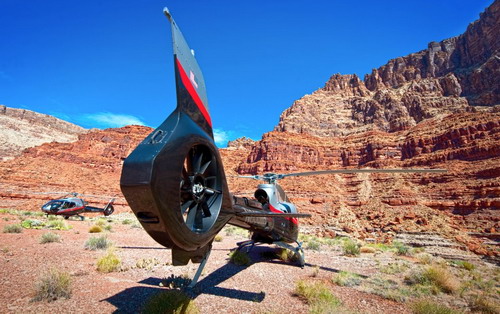 Best Prices
Let's first talk about where good rates aren't. You won't find them via:
Your hotel concierge
"Big box" travel sites like Expedia, Priceline and Travel Zoo
Street kiosks
To get a square deal, you have to shop Internet. But even that's not a given. Why? Because you have to know where to look. For me, I go direct to the source - the companies that own and operate the actual tours. It's on their websites that you'll find the best promotions and rates. Yet there's one more hoop to jump through: make sure you purchase the trip online in order to qualify for the Internet discount. Do that and you'll lock in a price that will make Ebenezer Scrooge jealous!
Conclusion
I hope you found this article about the West Rim and helicopter tours helpful. This part of the canyon is indeed unique, especially because it's the only place in the entire National Park where you can fly under the ledge and land at the base. That alone makes this destination a "must-do." I've listed a few of the most popular helicopter rides for your convenience. I also gave you the tools to get these flights at great prices. Just follow my time-honored process of 1) booking ahead of time; and 2) purchasing direct online and you'll be saving fistfuls of cash while enjoying what I consider to be the best of the Seven Natural Wonders of the World.
Have a grand day,

P.S. I rate the top 3 Grand Canyon helicopter tour companies that fly out of Las Vegas, NV. Click here to see who's my #1 choice. .
Tweet
Follow @keithkravitz