Best Time of Day to Fly

Helicopter tours are a great way to experience the Grand Canyon - in my opinion, the best of the Seven Natural Wonders of the World. It's a magnificent place, but it's so large and has so many wonderful sights that Grand Canyon helicopters are a terrific way to go.
That being said, I think it's important to know the best times to take Grand Canyon helicopter tours. I've flown on several, and I've learned that the timing of your flight makes a big difference in how much you enjoy the overall experience.
Heat!
Summer days at the West Rim are very hot, with temperatures soaring over 100 degrees virtually every day. The air can also get hazy and more turbulent as the day progresses. That means morning flights (before noon) are the best for West Rim summer helicopter tours. In addition to better visibility, you'll have a smoother flight in the morning. But if you're there during summer you have another reason to take a morning flight: in July, August and September, afternoon thunderstorms roll in almost every day. Who wants to have their flight canceled or postponed because of a storm when you can avoid the problem by taking your helicopter tour in the morning?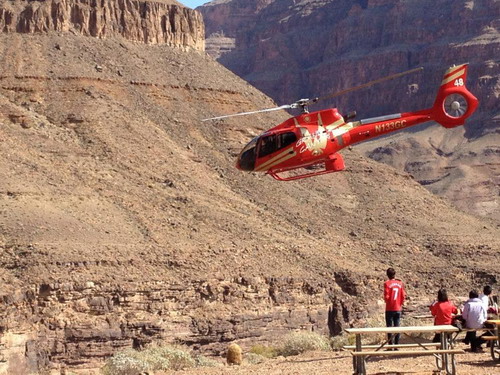 The South Rim's summer temperatures are cooler because of its higher elevation. The South Rim is more than 6,000 feet above sea level, so you don't need to beat the heat like you do with West Rim landing tours. Even so, I think morning departures for summer South Rim helicopter flights are best, because afternoons can still bring some minor air turbulence.
Winters at the West Rim are mild compared to the South Rim, although you'll still need to wear a jacket, gloves and hat. Expect colder temperatures (and possible snow) if you'll be taking a South Rim Grand Canyon helicopter tour during winter. The timing of winter flights is less important than it is for summer tours, but late-morning flights at either rim will let you avoid the worst of the cold but still give you plenty of time at the Park.
West Rim, South Rim
Grand Canyon helicopters fly to both rims, and the rim you choose will depend on the type of experience you want. The West Rim focuses on excitement and adventure - strolling on the Grand Canyon Skywalk, helicopter tours that land on the canyon floor, and float trips down the Colorado River. The South Rim is primarily known for its breathtaking scenic beauty, but Grand Canyon helicopters are not allowed to fly below this rim or land on the bottom. Instead, South Rim helicopter tours fly through spectacular Dragoon Corridor, the canyon's widest and deepest section.
West Rim helicopter toursfly out of Las Vegas every day of the year. If you want to visit the South Rim, you'll need to arrange transportation to Grand Canyon Airport in tiny Tusayan, Arizona - it's located just a few minutes away from the South Rim's main entrance. No helicopter tours fly rim-to-rim, and because of the distance involved, there aren't any South Rim helicopter tours departing from Las Vegas.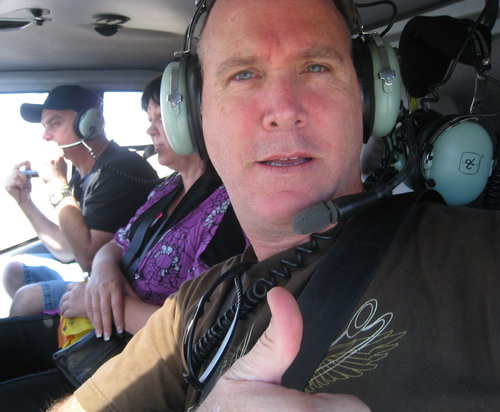 I always recommend booking your flight well in advance of your desired departure date. Best practice is to lock down your seats no less than a week in advance. If you wait until the last minute, I can assure you that you'll most likely not be able to book a tour and if you do it won't be the one you want. Moreover, you'll also pay out the nose because, like the airlines, air tour companies, too, know that the most profitable customer is the one who fails to plan ahead.
Discounts
Which brings me to another point: Deals. I've met way too many people spending their lives on the Internet in pursuit of the Holy Grail of promotions. Folks, specials like that are out there but they're limited and usually get snapped up in seconds. How do you counter this phenomena and not pull out your hair? Go to the tour operator's website. It's counterintuitive but it's true. See, buying direct is the only way to go, and it will save you majorly in terms of money and time.
No matter which of the rims you decide to see or during which season you'll be traveling, dress appropriately for the climate during that season. Make sure you bring sunscreen, a hat, sturdy shoes, sunglasses and extra water.
Have a grand day,

P.S. I rate the top 3 Grand Canyon helicopter tour companies that fly out of Las Vegas, NV. Click here to see who's my #1 choice. .
Tweet
Follow @keithkravitz