South Rim Things to Do

Arizona's Grand Canyon National Park has a ton of things for travelers to see and do. For one thing, the Park is huge, covering around a million acres. Yes, that's a million, and that means helicopter tours are one of the best ways to see things. Plus, there probably isn't anywhere else in the world that combines such spectacular landscapes with such diverse plant and animal life.
Of course, the Grand Canyon's geology is fascinating (the Colorado River carved the canyon out of the rock of the Colorado Plateau over countless millions of years). Likewise for the canyon's history and culture (Native Americans have inhabited the area since prehistoric times; native rock drawings on the canyon walls prove it). But above all else, the Grand Canyon means gorgeous natural vistas. In my opinion, the South Rim wins the prize for spectacular landscapes.
All of this - the magnificent views and the interesting geology, history and culture of the area - can be enjoyed by taking one of the terrific South Rim tours.
The South Rim isn't as commercialized as the West, but there isn't any lack of South Rim activities, especially for travelers taking South Rim tours.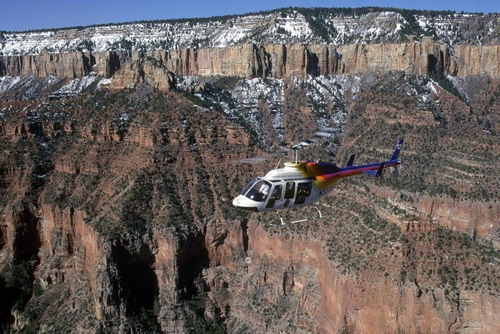 Helicopter Tours
Basic South Rim helicopter tours take travelers on an exhilarating 30-minute flight over the South Rim to the North Rim and back by way of dramatic Dragoon Corridor. They also overfly magnificent Kaibab National Forest. A longer (50 minutes of airtime) deluxe version does that too, but adds the far eastern boundary of the Park, letting travelers see Imperial Point, Zuni Corridor, the Tower of Ra, the fabulous Painted Desert, the Desert Watchtower and much, much more. Frankly, I prefer the 50-minute tour because not only do you see more but also you do it in an EcoStar 130. These are the most modern aircraft in the sky and feature the following:
25 percent larger cabins (more personal space)
180-degree wraparound windows
Superior climate control (it gets hot up there during summer)
Noise-canceling rotor
State-of-the-art aerodynamic design
Indeed, the EcoStar tours are more expensive than the ones using conventional chopper tours. However, this is the Grand Canyon. If you're want to experience it to the max, you should strongly consider doing it aboard the more superior chopper.
As far as South Rim activities are concerned, you have some pretty incredible scenic outlooks to check out:
Mather Point
Yaki Point
Yavapai Point
The Rim Trail (this is a relatively flat footpath that's packed with benches and outstanding lookouts)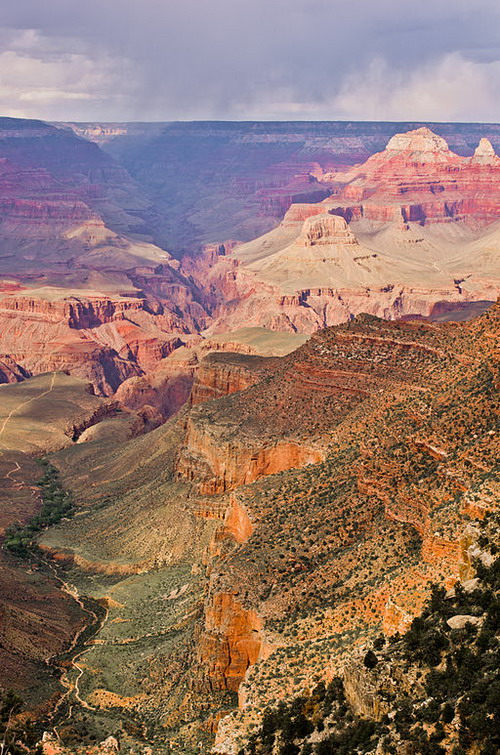 That's not all, though - not by a long shot. You can hike along the famous Bright Angel Trail (it can get hot and a bit strenuous - bring snacks and water), either before or after your South Rim tour. Hiking the South Kaibab Trail is another one of the most popular South Rim activities for active travelers. Please take a real assessment of your physical conditioning when hiking down into the canyon. Remember, elevation is 6,500 feet so air is thin - a factor that really comes into play when hiking back to the top. Lastly, dispel any notion about hiking to the bottom and back in a day. Unfortunately, the people who do end up having to be airlifted out due to physical and/or heat exhaustion. If hiking isn't your thing, the Park rents bicycles and all the equipment you'd need for South Rim tours aboard a bike.
Activities Galore!
The South Rim activities run by the ranger station are always interesting. They include photography workshops (and photo walking tours!) and educational Junior Ranger programs. Just outside the Park's main gates, there's an IMAX movie theater in the National Geographic Center. If you can, reserve your tickets in advance as there can be quite a line to get int. Is it worth the wait? Yes, because IMAX' panoramic cinematography is ideal for capturing the essence of something so grandiose as the canyon. The theater is located in Tusayan, which is just 10 minutes from Grand Canyon Village. Grand Canyon National Park Airport is located here, too, which you'll want to keep in mind because helicopter tours require that you check in 30 minutes prior to take off. Speaking of checking in, make sure to bring a photo ID if you over the age of 18.
If you get hungry or thirsty, you can always drop into Grand Canyon Village, the South Rim's commercial area. There you'll find an assortment of restaurants, souvenir shops and museums. My personal favorite is the family style restaurant inside the Bright Angel Lodge. The food is delicious and the portions are humongous. There's also a great coffee shop in the Lodge that at night becomes a bar. If you decide to stay the night, Grand Canyon Village also has on-site hotels. They include Bright Angel Lodge, Maswick Lodge, Kachina Lodge and the legendary El Tovar (try to either get a drink in the ET bar or have dinner in it's wood-paneled dining room). I'd be remiss if I didn't mention the Bright Angel Cabins. These are some of the oldest structures in the Park and are literally a stone's through from the edge. Problem is they are super popular during summer and difficult to book but I'd still give it a try.
Conclusion
All South Rim tours are a terrific way to see the marvels of the Grand Canyon. In my opinion, though, helicopter tours are the best of the best. You won't miss any important South Rim activities like you might if you went on your own. You'll also see a much larger portion of the canyon than you'd ever be able to see from the ground. Book early and online, though, because South Rim tours are incredibly popular!
Have a grand day,

P.S. I rate the top 3 Grand Canyon helicopter tour companies that fly out of Las Vegas, NV. Click here to see who's my #1 choice. .
Tweet
Follow @keithkravitz