Sundance Helicopters Review

There's a lot of buzz about Sundance Helicopters. Like their competitors, the company offers daily flights from Las Vegas to Grand Canyon National Park. But what makes Sundance stand head and shoulders above the pack is quality. Nevada Magazine has named them best helicopter company a seven times (a record!). Then there's the prestigious Diamond award for excellence, which Sundance snags on a regular basis. Indeed, when you add it all up, Sundance is clearly the choice for 5-star copter tours.
The Sundance Difference
There is a number of Grand Canyon helicopter companies based in Las Vegas. They run the gamut, from budget to platinum. Sundance is at the top of the scale. Their tours are premium and they are worth every cent.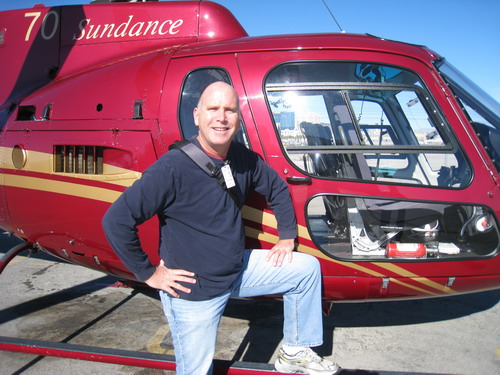 The red-carpet treatment starts with the company's signature private limousine pick-service. Stretch limos are included with every flight. Other companies will pack you into a public shuttle bus. Not cool if you are celebrating a special occasion like a wedding or an anniversary.
Then there's the helicopter fleet. Sundance features Las Vegas' largest fleet of executive jet helicopters! No tiny, out-of-date choppers here, and all seats face forward (others have aircraft with back-facing bench seats!).
The EcoStar 130 Helicopter
The fleet's crown jewel is the EcoStar 130. This chopper has 23 percent more cabin space than its competitors. It also features a 180-degree wraparound windshield so everyone gets panorama views and a Fenestron tail rotor for a smooth, quiet ride. A/C works like your home's thermostat. Each ride comes with an insightful tour narration.
The Heliport
Sundance operates its own private air terminal at the west end of McCarran International Airport. The structure is immaculate. The lobby is like an art museum. The distance from the terminal to a chopper is no more than 50 paces! Most important is the heliport's location: It's on the Las Vegas Strip.
Grand Canyon Helicopter Tours
Sundance Helicopters flies to Grand Canyon West and offers a host of tours:
Grand Canyon air tour
Grand Canyon landing tour
Grand Canyon sunset tour
Grand Canyon bus, helicopter, boat
Las Vegas Strip air tour
Las Vegas Strip and Hoover Dam air tour
These are the most popular tours (the #1 trip is the landing tour with champagne picnic), which have been developed by Sundance based on traveler demand.
How to Buy a Sundance Helicopter Tour
Rule #1: Never pay full retail price for a helicopter ride if you can get it for less on the Internet. It surprises me that travelers still pick up the phone or use a concierge to book their helicopter trips. Old habits are tough to break. But try. It can save you big bucks. Further, always book in advance. Don't wait until the last minute. These trips sell out and same-day bookings cost a premium.
Fly the Grand Canyon
What separates Sundance Helicopters from the pack? Quality. From their private terminal and swanky lobby to their new EcoStar 130s and stretch limousines, Sundance's owns this niche. If you're the type of traveler who prefers incredible customer service with your five-star helicopter flight, look no further. Sundance is the obvious choice.
Have a GRAND day,

Tweet
Follow @keithkravitz