Top 3 Tours from Las Vegas, NV

Folks, we're in the thick of January and I'm starting to see a trend in helicopter bookings, especially in terms of future bookings, which is important because it gives you an idea about which flights are most likely to sell out.
On a daily basis, I'm helping a lot of reader/clients book the air-only tour. I'm not surprised. The price is extremely low this time of year so the trip is a great value.
More importantly, if you plan to do the air-only later in the year, now's the time to get it because you can lock in the crazy winter rate for summer 2014. I know it takes some forethought, but if you take a minute and plan it out, there's big savings to be had.
72 Hours
For those contemplating this trip now, the old rule applies: book it 72 hours in advance. But you'll say, "Keith, I thought it was slow season and that they were giving away flights?" And, generally, I'd agree. But this year is shaping up to be one of the best on record.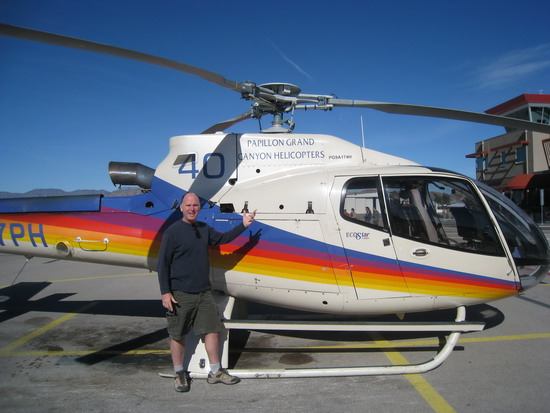 For some weird reason, November and December of last year were extremely slow in terms of business. This put pressure on tour operators to lower prices in order to kick start demand. Interestingly, they're still keeping rates low. Thus today's the time to get a heli ride on the cheap.
Which savvy travelers are doing as I write. Currently, I've had to struggle to get people on the air-only out of Vegas who want to get airborne within 72 hours. I suspect the logjam is related to supply and demand as operators typically ground a portion of their fleet during the winter months.
Perfect Storm
But that's only part of it because they've also juiced up the situation with oddly low prices due to the winter 2013 slump. Indeed, it's created the "perfect storm" wherein flights are literally sold out for days. The good news is I expect this to moderately change once we get into mid-February but not by a lot.
Oh, yeah, and in mid-February, look for prices to make their slight climb upwards. 'Tis the nature of the business.
The second tour I'm seeing a lot of action on is the Heli/Skywalk/Boat. I'm not really surprised. This trip is the "mega" tour. In other words, you see everything. Check this out: First, you fly to the bottom, land, and do a boat ride down the famous Colorado River. Then you get back on the heli and land on the top, do the Skywalk, then spend up to 2.5 hours exploring the rim.
This trip literally leaves no stone unturned. I've done it several times and I'm impressed by how much you see and do. Not only do you do top and bottom (few can say they've done it!), but you also get VIP access to the Skywalk, which is basically a glass bridge that lets you walk 70 feet past the edge. Once you get out there, you're standing 4,000 feet over the bottom. Incredible!
Mega Tour
Lots of travelers are booking the "mega" tour now. More importantly, however, are the future bookings, which are going crazy. I applaud this for several reasons. The price for this tour is ridiculously low. Come spring, I guarantee it will go up 20 percent and perhaps more. Equally important is availability. This tour is a limited-run, which means it will undoubtedly sell out during spring/summer. Book it now if it interests you.
The last of my top 3 is the flight that lands at the bottom for a Champagne brunch. Like the others, the price is right so get it before operators wake up to the fact that it's priced below market. Frankly, its odd to find this tour rounding out the top 3. Usually, it's the leader and I expect it to reclaim the top spot come spring. Or at least that's how it usually plays out.
At any rate, the Champagne trip (like all the others) goes over Lake Mead, Hoover Dam and the Colorado River before landing on the Canyon's floor. There you'll be treated to a Champagne brunch, which makes it perfect for special occasions like Valentine's Day (Gentleman, please take note!). On the floor, definitely take a stroll down to the river. It's awesome. Typically, I rave about the descent, which is incredible, but the ascent I equally impressive, especially when you pass the Skywalk.
Conclusion
Folks, it's been an interesting January in terms of helicopter tour bookings. Before I looked at the numbers, I'd have picked the Champagne landing tour as the #1 trip. However, after pulling back the curtain, it was actually the aerial tour, followed by the "mega" excursion! Now, to benefit from this "insider" information, deploy these action items now:
Buy now - Prices are crazy low
Book in advance - I can't sell you a trip today for the next 2 days because they are sold out. RSVP at least a week in advance (call me if you get caught in the 72-hour zone and can't get a flight. I might be able to perform a miracle).
Understand the trend - Rates are usually low in winter, but this winter they are very low. Expect this to change dramatically in mid-February, going upwards non-stop through summer and fall.
Have a grand day,

P.S. I rate the top 3 Grand Canyon helicopter tour companies that fly out of Las Vegas, NV. Click here to see who's my #1 choice. .
Tweet
Follow @keithkravitz