Las Vegas Helicopter Tours Go Over Hoover Dam

Hoover Dam is popular. I know because I've been fielding a lot of chats from Vegas travelers about it. More specifically, you guys want to know if you'll see it en route to the canyon.
The answer is "Yes."
Let me back up a bit here because there's a simple tie that binds all this together.
For the record, nearly all helicopter tours from LV to the Grand Canyon fly the same flight path.
Doesn't matter if you fly Maverick, Papillon, Grand Canyon helicopters, etc. Once these folks get out of the Vegas metro area, they all merge into the same lane and go east. Of course, there are few deviant flights out there, like Maverick's Valley of Fire tour, but it's unique. And it costs a small fortune (it's worth it, too!).
This one-lane-fits-all corridor goes like this: Go along Lake Mead, fly over Hoover Dam, pass Fortification Hill and enter Grand Canyon airspace. From here, the "lane" sections off: one takes you to the bottom and the other will either fly you over it and/or land you at Grand Canyon West Airport.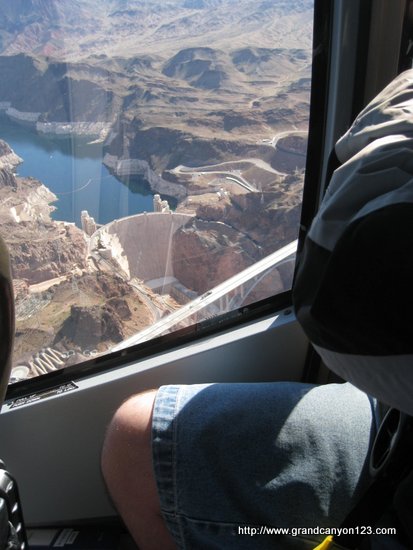 Can you see Hoover Dam on these heli rides? Absolutely yes. In fact, it's one of the highlights. Moreover, if Hoover is a big deal for you, always take a helicopter versus the airplane. Helicopters fly lower and slower and can zig an zag over the structure; airplanes do somewhat of a straight shot over it.
Let's be realistic about how much time you spend over Hoover Dam. This is a heli so you can't park it over on the side of the road and snap photos of it like you can if you take a bus tour. I'd fathom you're overhead for between three to four minutes, which is plenty of time to pull out the trusty DLSR and get some money shots.
Then it's off to what you paid the big money for: the Grand Canyon.
Or you'd think, right?
I recently assisted a traveler via chat who was fixated on the Dam. In fact, he only brought up the canyon once at the start of the conversation. Weird, I thought. As things progressed, I had to interrupt, recommending that if Hoover meant that much to him, take a Dam helicopter tour from Boulder City. Or a bus tour.
The point is that he needed to prioritize what he wanted to see. I look at like this: if you want a Grand Canyon helicopter tour, the objective is the National Park and how much time you spend there or over it. Hoover Dam, to my mind, is a bonus, a gift - a magnificent landmark that just happens to be on the way (and what a great bonus it is).
Drilling down, this is how I recommend you look at canyon helicopter tours in general. You have air tours and landing tours. Step one is your budget. Air is the cheapest option. Step two is where do you want to land? Top or bottom. Or both. Top flights always include Skywalk passes and 2+ hours to roam the Park. Bottom is 30 minutes and a picnic. Top and bottom is a mega trip that lasts 6 hours. It's fantastic but it's also the most expensive.
Go through the process I just described and you'll be able to pick a helicopter tour faster than a speeding bullet. I know there's a few of you out there who will still agonize the decision. Don't. It's really that simple. And as far as Hoover is concerned, yes, it's part of every package, so don't let it sidetrack you as you shop packages.
Have a grand day,

P.S. I rate the top 3 Grand Canyon helicopter tour companies that fly out of Las Vegas, NV. Click here to see who's my #1 choice. .
Tweet
Follow @keithkravitz