The Cheap Tours Start From This Airport

I'm getting the impression that folks are starting to read my site's comments about Las Vegas airports and how they can save money on helicopter tours. I say this empirically because in live chat travelers are throwing around the phrase "Boulder City" like a travel agent. Puts a smile on my face.
Why? Because very few Vegas visitors know about Boulder City. The one's who do ask, "Hey Keith, does the Grand Celebration leave from Boulder City or McCarran International?" When I see that kind of inquiry I know I have someone on the other side who's done their homework.
Knowledge is Power
And good for them because distinguishing between the two can result in major cash back to you. McCarran, for the record, is Las Vegas' main airport. It's located just east of The Strip and it's where the majority of Vegas' air travelers will touch down when partaking in the City that Never Sleeps.
Helicopter tours, on the other hand, are a whole new breed of cat. Indeed, there are plenty of flights that take off from helipads that line the west side and north side of McCarran. Papillon, Maverick, Heli USA and Sundance all have operations here. And what makes these "hubs" so appealing for future fliers is the convenience.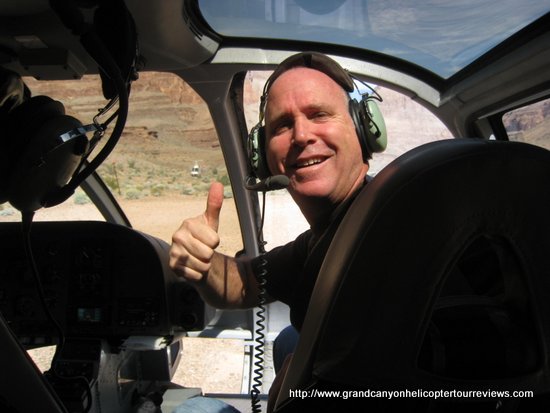 For instance, anyone staying at Mandalay Bay, Luxor, Flamingo, MGM Grand, Excalibur, New York New York, Monte Carlo...basically any resort that's near the intersection of Tropicana and The Strip will be about 5 minutes from these helicopter terminals. If you're further down Las Vegas Boulevard (a/k/a The Strip) in places like Caesars, Bellagio, the Cosmopolitan and City Centre, it's a 10-minute trip.
The Options
Convenience, however, has a price. If you are searching flights that depart from or near McCarran, you will pay a premium. Usually ranges between $50 to $125 more per person (that's not a typo!). I can hear some of you running for the doors. But before you let it shut, consider the alternatives: Boulder City, North Las Vegas or Henderson, NV.
North Las Vegas Airport is near the Texas Hotel and it's a fine place from which to depart. The key drawback is that the number of flights per day is limited. Moreover, the number of first-rate operators doing business there is also limited. And if you're not based in north Vegas (e.g. Summerlin, The Lakes, etc.) the drive up can be a slow grind. For these reasons, I typically don't recommend doing NLV.
Henderson is a great alternative. Depending on time of day, the drive south can take upwards of 20 minutes. Maverick Helicopters and Mustang are the two key operators here. If you've read my reviews about these two fine companies you know they are two first-rate outfits and that you'll pay more to fly them. However, if you fly Mav from McCarran you'll pay even more. So tread accordingly.
The Best Rates
As I said at the top this article there's ONE departure point that has the cheapest flights. And it's Boulder City Municipal. I've been covering the helicopter tour business for years and Boulder's always led the way for cheap flights. Papillon is the primary operator here. In fact, the company owns it's own terminal and it's a beautiful structure. It's also a testament to how successful the company's been with its discount Boulder flights.
I'm always checking Las Vegas helicopter prices from Boulder against McCarran and Henderson and the rates from Boulder are easily up to 30% cheaper. Possibly even more during winter and fall when the slow season kicks in. That's substantial, especially if you're booking a tour for two or more people. In fact I just recently helped someone save $125 per person getting them routed through BC via Papillon!
Now the drive from Las Vegas to Boulder takes between 25-30 minutes. Some will find that intolerable or too much because they are pressed for time. Hey, I've been there, too. And that's why it's great to have McCarran as an option. But the shuttle to BC is easy and time goes by quickly. And, in the case of that reader who saved $250, trading off convenience was a no-brainer.
Conclusion
I hope this article helped you understand how to leverage the various Las Vegas-area airports to lower the rates on helicopter tours. It's a trick I use all the time for friends and family and readers of this site. If you're looking to save money, I urge you to do the same. Or, if you are looking for convenience (and a bonus return flight over The Strip), pass on Boulder and go with McCarran. If you have questions or require additional assistance, visit me in live chat or send email to grandcanyonkeith AT gmail.com and I'll be happy to help.
Have a grand day,

P.S. I rate the top 3 Grand Canyon helicopter tour companies that fly out of Las Vegas, NV. Click here to see who's my #1 choice. .
Tweet
Follow @keithkravitz