50-Minute Imperial Air Tour

The Imperial Air Tour is the Papillon Helicopters package that offers travelers the most time in the air. Yes, you'll pay a bit more for it, but you'll also cover everything from mid-canyon to the eastern boundary, which, by my estimates, is about 3/4 of the entire National Park. Traversing that much territory any other way would take days or weeks! If you've come to conquer the canyon, this high-octane aerial adventure fits the bill.
The Imperial Air Tour takes off from the Papillon Air Terminal at Grand Canyon National Park Airport, which is located in the town of Tusayan just outside the main gates of the South Rim. Readers often ask me how to get to the airport, and so I've put together this group of Google Maps links:
There are several other air tour companies that operate terminals/heliports at the GCN air complex. Papillon's is the biggest, so you should have not problem finding it.
Check In
In nearly all cases, travelers must provide their own transpiration to the terminal. If you don't have a vehicle, you can arrange for a cab from the Bright Angel Transportation Desk inside the Lodge at Grand Canyon village. Parking is free and there's plenty of it.
Through the front doors you'll go straight to check-in. Unlike what your used to at large airports, the process here takes minutes. Remember to bring a government-issued ID. You'll also be discreetly weighed, which is mandatory because seating is based on proper weight distribution. If you are heavier than 275 pounds, you will be asked to purchase an extra seat.
There's a cafe and a gift store inside the terminal. The coffee's good, and there are plenty of souvenirs to be had, though I recommend shopping after you've completed your flight because you don't want to drag your mementos all about as you prepare to take off.
The walk from the passenger lounge to the aircraft is less than a minute. Your pilot/guide will give you a safety briefing on the tarmac, including instructions on how to use your water-flotation device (it's true!) and harness-configured seatbelt (don't laugh...it took me several tries to get it figure out!).
The Flight
Takes no time for the rotor blades to get up to speed. Before you know it, the aircraft begins vertically ascending, which is probably one of the coolest things about Imperial Air Tour. You'll propel forward to the runway and, nose down, bolt north over Kaibab National Forest, home to the largest stand of Ponderosa pine in the U.S.
Unlike the North Canyon tour, which goes straightway into the chasm, the Imperial will veer east. You'll follow the Colorado River upstream, passing Desert Watchtower and Point Imperial, the highest spire in the canyon, before entering the Zuni Corridor. Here you'll see the Painted Desert, the Navajo Indian Reservation and the Colorado River confluence.
The helicopter will hold a northerly tack until it reaches the North Rim, which is 1,000 feet higher in elevation than the South Rim. Onward, you'll bank south and go through the Dragoon Corridor, the largest, deepest (1 vertical mile!) part of the Grand Canyon. The descent kicks in and in minutes you're alighting on terra firma.
Total airtime: 45-50 minutes.
What to Bring
Folks always ask if they can get good photos form inside a helicopter. Absolutely yes! The views are positively begging to be photographed, so make sure your smart phone, slr camera and/or camcorder is charged to the max the night before because you're going to be snapping away like mad. I also suggest bringing sunglasses (glare) and water. The a/c in these helicopters is phenomenal but it's arid out there and you will get parched.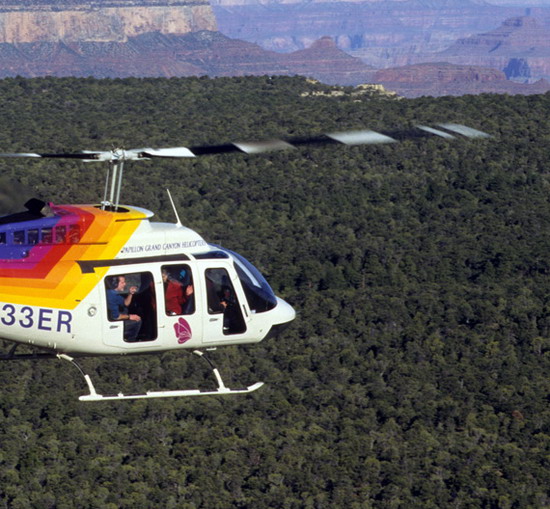 What to Wear
The South Rim's elevation is about 6,600 feet. This means summers are temperate and winters are cold. Bear this in mind. For summer, I suggest wearing a hat and sunglasses. Pants are preferred but shorts are fine. Winter temps are cold and you'll want a hat, sunglasses, long pants, a medium-weight jacket and covered-toe shoes. That's rule-of-thumb stuff. If in doubt, stick your head outside and get an actual reading ;-)
RSVP
South Rim helicopter tours sell out, especially during summer months. Too many folks think it's OK to make their reservations at the destination. I say don't risk it. Instead, book your flights at least 72 hours to a week in advance. I've heard of travelers walking into the lobby and getting a seat, but I can assure you they paid a small fortune it. Further, it was most likely one person or a pair that agreed to fly separately - what's the fun in that?
Deals
There's also the misperception that purchasing seats at the destination is cheaper. So wrong. Do that and expect to pay a premium. Spare the headache. All the great deals are on the Internet. Especially Papillon's. I use the Web exclusively these days and I'm regularly saving up to 35 percent. It's not because I'm special, either. You can do it, too. Simply fire up the PC or iPad or mobile phone. It's that easy.
Have a grand day,

Tweet
Follow @keithkravitz