Land at Bottom & Sunset Picnic from Boulder City, NV

The Grand Celebration Sunset Tour is a masterful respin of the standard Grand Celebration package except it leaves around 6 p.m. so you'll get spectacular sunset views on the return to Las Vegas. If you think the Grand Canyon is incredible in plain daylight, wait until you see it at near-dusk. The light at this hour is ethereal as it waxes and wanes across this primordial desert landscape. Do understand that this trip is extremely limited (there's only one flight time) and that it must be booked in advance.
The Itinerary
There's this perception that you'll depart from Papillon's Las Vegas Strip terminal. Not true. You leave from Boulder City Municipal Airport, which is a free, 30-minute shuttle ride. Some see this as an inconvenience. I view it as a bonus part of the journey as you'll see parts of the Las Vegas metro area that are quite frankly the drivers behind the city's meteoric growth.
I'm always amazed how fast check-in is. I think it has a lot to do with traveling through the DFW or LAX or PHX airports and dealing with security and flight delays. Papillon allows you to bring a simple carry-on. Alcohol is not allowed. They also register your weight - if you are more than 275 pounds you'll have to purchase and extra seat. The reason for the weigh-in is that seating on helicopters is assigned based on weight distribution. The only seat you can reserve on a chopper is the front seat, but you'll pay a premium for it, and there are only three spots available.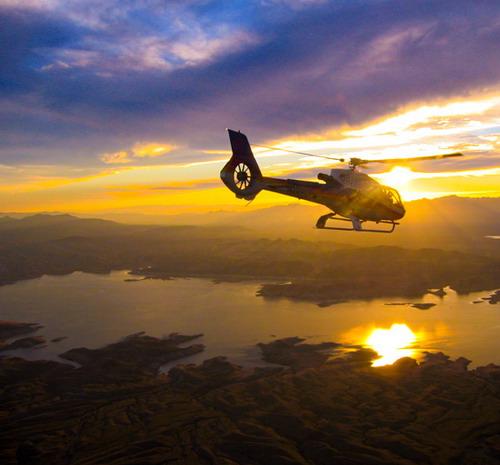 The flight plan takes you due east past Lake Mead, the largest man-made reservoir in the United States, and Hoover Dam, the iconic structure that manages the flow of the legendary Colorado River. The Grand Cliff's Wash ahead signify that you're now in Grand Canyon airspace.
Here the 4,000-foot descent to the bottom begins. It takes only 10 minutes to do this as you go through an atmosphere and landscape that seem frozen in time. The chopper goes straight down the center of the chasm and follows the churning river below until you land on a makeshift helipad.
First up is the Champagne picnic, which you get to enjoy in plein aire under an authentic Hualapai Indian Ramada. The sounds of evening begin to pick up as the day's light weakens. You are free to roam the base, home to some of the Earth's oldest exposed surface rock. About 150 yards away is the Colorado River (you can hear it) and there's a gentle path that takes you to the riverbank.
Total bottom time is around 30 minutes. Total tour time is 4 hours (hotel to hotel)
The ascent to the top is as thrilling as the descent. Directionally, you head further east along the Colorado before banking right into a side canyon and passing the Grand Canyon Skywalk, the glass bridge that lets you walk 70 feet past the edge of the West Rim. Sunset starts now, and, as noted at the beginning, it's a beautiful mosaic of golden hues and shadows that drape themselves over the best of the Seven Natural Wonders of the World.
The Helicopter
This trip uses the ECO-Star 130, a helicopter that's been designed expressly for sightseeing. It boasts 25 percent more cabin space than conventional helis. Its 180-degree wraparound window ensures that you'll get IMAX-like panoramas. Seating is configured theater-style, an arrangement wherein everyone faces forward for a clear view of the action. These choppers are amazingly quiet and are renowned for their aerodynamics (e.g. smooth flights).
What's Included
This is an all-inclusive tour and comes with the following:
Complimentary shuttle service to and from all major Las Vegas Strip hotels
Deluxe ECO-Star 130 helicopter
Champagne picnic
Trip narration (translated in up to 10 languages)
Safe, professional pilot/guide
What to Bring & Wear
This package is primarily available in the late spring through Summer. It is often not available during the winter months (December through February). Considering this, I suggest you bring the following:
Hat (with brim) or beanie
Sunglasses
Hat
Running shoes or the like
Shorts or lightweight pants are fine
Water
Sun block/li>
ChapStick
Tip for pilot (optional)
It's tempting to think that temps will dramatically cool down during Summer evenings. Not the case. Sure, they'll drop a few degrees from 105 to 100 but it's still hot. I urge travelers not to let their guard down. Always hydrate prior to, during and after the flight. Remember, coffee, energy drinks and soda do not effectively replenish fluids like good old-fashioned water.
Picture Time!
This package is full of photo opportunities. Make sure you charge up all your personal electronics (e.g. camera, camcorder, smart phone) as you'll get million-dollar views of the lake, the dam and the canyon. I urge you not to get stuck behind the lens during the flight. Indeed, there are great shots to be had up in the air, but this trip is all about the sunset, and that, in my opinion, is best experienced by simply kicking back and enjoying it.
Should you have to cancel your trip, do it within 24 hours of your depature time/date and you'll get a full refund. You'll also get a complete refund should weather cancel your trip.
Have a grand day,

P.S. I rate the top 3 Grand Canyon helicopter tour companies that fly out of Las Vegas, NV. Click here to see who's my #1 choice. .
Tweet
Follow @keithkravitz