Land on Bottom, Champagne Picnic & Las Vegas Strip Flyover

Papillon's Grand Celebration w/ Las Vegas Strip combines the sizzle of Sin City with the natrual splendor of the Grand Canyon. If you're looking for the best of both worlds, this particular tour is tailor-made for you.
To say this version of the Grand Celebration is special is an understatement. The five-star fun starts when you get picked up in a limo (included at no extra charge) and chauffeured to Papillon's ultra-swanky air terminal on the Strip. From there, you'll lift off and fly over Lake Mead, the largest man-made lake in the U.S., and Hoover Dam, a tribute to 20th Century engineering, before entering canyon airspace.
[Play Video - See Grand Celebration Tour in Action!]
You'll know you're edging into the National Park once you crest the Grand Wash Cliffs. Up and over, you now make the 4,000-foot descent to the bottom. This portion of the trip is about 15 minutes and it's quite spectacular as you strafe the Colorado River.
Landing is at Papillon's own private concourse of dirt helipads. You'll touchdown, deplane and walk over to a Ramada, a shaded patio-like area where you'll enjoy a Champagne brunch or lunch depending on the time of day you get there.
In general, you'll have about 30 minutes to explore the bottom. Papillon's not a big stickler on time. I always recommend that travelers take the dirt path to the banks of the Colorado River. Do that and you'll end up at the boat dock where the float rides start.
Old Rocks
I also find that this trip is much more meaningful when you know what you're looking at while at the bottom. The rock bed your are standing on is 2 billion years old. It's called Vishnu Schist. The white layer at the top of the rim is called Kaibab Limestone and it's 230 million years old. The material between the Vishnu Schist and the Kaibab Limestone ranges from 500-1.5 million years. Pretty mind-blowing when you think about it.
The ascent back to the top of the West Rim is pretty intense, too. On my last trip I got to sit next to the pilot in the front. Taking off and gaining altitude, I felt like I was in an IMAX movie, the bottom of the canyon racing beneath my feet while the cliffs pushed upwards to the sky.
You'll cut through one of the West Rim's side canyons, pass by the Grand Canyon Skywalk (the Glass bridge that lets you walk 70 feet past the edge while suspending you 4,000 feet over the canyon's floor) and head due west at an average speed of more than 200 miles per hour!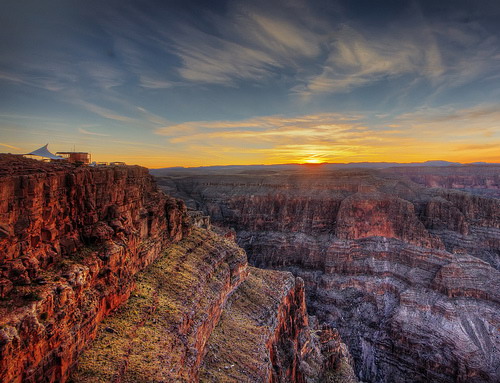 Vegas, Baby!
Soon, Las Vegas rises out of the desert. The skyline is one of the most celebrated in the world, and justly so. Now your Strip tour starts. You'll fly over historic downtown, the Stratosphere Tower, The Mirage Volcano, the Treasure Island Pirate Ship, Paris' Eiffel Tower, the Bellagio Towers, the Excalibur Castle, MGM's Emerald City and the Luxor Pyramid, among other sights.
Total tour time: 4 hours
Everything about this tour is top-shelf, including the aircraft. Only EcoStar 130's are used. These choppers boast 25 percent more cabin space, come with stadium-style seats (every seat is the best seat!) and are outfitted with a 180-degree wraparound windshield for crystal-clear views of the view in front and below you. Furthermore, the EcoStar's aerodynamic design ensures a very stable flight, while it's high-tech tail rotor cuts noise down to whisper.
When to Fly
The best time to take this trip is in the morning. There are several reasons for this. The first is that morning air is smoother and you'll have less turbulence. Second, you'll have better visibility. Late afternoon is a credible option, too, because the canyon will be in higher contrast as the sun starts to lower to the horizon. Dust and smoke particles make late-afternoon sunlight more dramatic, too.
What you wear depends on when you go. Summers at the West Rim are hot, with temperatures regularly over 100 degrees. You'll want to definitely dress comfortably. Absolute essentials include a hat, sunglasses, sturdy footwear, sun block, water and a lightweight long-sleeved shirt. Winter is temperate to cold and I recommend you come prepared. Specifically, I'd wear long pants and a long shirt and a medium-weight jacket. I'd also pack a hat, gloves, water and sun block. Good footwear is advised as the surface of the West Rim is rocky.
Flights are limited. This is why I advise you to book this incredible adventure in advance. How far ahead of time? At least a week, especially during summer when this tour is in exceptionally high demand. If you decide to go for this trip within 24 hours of your desired departure time, forget it. You might have a chance if it's just you, but if its two or more people, the odds are firmly stacked against you.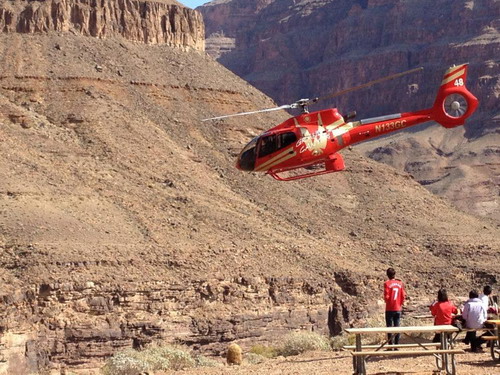 Buy Direct
Lots of third-party travel agencies like Viator, Expedia and Travelocity are selling this trip, and making a hefty profit at it. Don't pay their premium prices (and even if they call it a detail there's a number of strings attached that make the offer thoroughly unattractive). Instead, by this tour direct from Papillon.com, the official website of Papillon Tours. By buying direct, you can save yourself time (lots of it) and cut your cost between 20-35 percent!
Have a grand day,

P.S. I rate the top 3 Grand Canyon helicopter tour companies that fly out of Las Vegas, NV. Click here to see who's my #1 choice. .
Tweet
Follow @keithkravitz