Golden Eagle Grand Canyon Flyover Tour

The Golden Eagle Air Tour is Papillon's best air-only excursion over the West Rim of the Grand Canyon. It's also the fastest way to get from the Las Vegas Strip to the canyon and back, making it the perfect option for travelers on a tight schedule. But don't mistake quick for short. This trip leaves nothing on the table, covering all the key landmarks with style and grace.
The Flight Path (What You'll See)
Like most Papillon tours to the West Rim, you'll depart from the company's shiny, new terminal near the Boulder City Municipal Airport, a complex located just 30 minutes from the Las Vegas Strip. It's a short, interesting trip and will show off the burgeoning suburban side of Vegas.
Check-in is quick and efficient. You're allowed to bring a small carry-on with you. Alcohol is not allowed. Seems weird to mention but many passengers ask. You'll be discreetly weighed by stepping on a camouflaged scale built into the floor. Why? Seating is determined by weight distribution. Further, if are more than 275 pounds, you'll be asked to purchase an additional seat.
There's a short safety demonstration about using seatbelts and then it's up in the air. This trip heads east, and the first thing you'll see is Fortification Hill, an extinct volcano. Lake Mead will shortly come into view - it's claim to fame is being the largest man-made reservoir in the United States - and before you know it you're over magnificent Hoover Dam, one of the West's most iconic structures.
Next are the cliffs of the Grand Wash. This topographical feature signals the start of the Grand Canyon, which is totally apparent as you clear the plateau and enter the West Rim's incredibly vast airspace. Below is the Colorado River, the waterway that's responsible for creating the National Park, and the Grand Canyon Skywalk, the glass walkway that lets travelers walk 70 feet past the edge of the rim.
The chopper will spend extended time flying over the finest parts of the West Rim, including sections of the gorge that measure up to a mile deep and 10 miles wide! In my opinion, these epic measurements are lost on visitors who experience the Park on foot as you have to get airborne to truly understand how massive this natural wonder really is. Amid all this, your chopper will u-turn and head back to Boulder City and land.
Total tour time (including shuttle): 3 hours.
What's Included
The Golden Eagle air tour is all-inclusive and comes with the following:
Free Las Vegas Strip hotel pick up and drop off
Professional, safe pilot/guide
In-flight narration (translated in up to 10 languages!)
Earlier I said that seating was assigned by weight and that seating can't be pre-determined. Well, that's not entirely correct. Papillon now offers front-seat upgrades, which cost extra but if have your heart set on being in the front, you can try to buy it.
Best Time to Fly
This helicopter tour is available every day of the year including all major U.S. holidays. Departure times are throughout the day. Summer flights start early in order to beat the heat. The last flight in the day might be a sunset trip but there are no guarantees. Best time to fly? Anytime up to 12 p.m. This is when visibility is best and air conditions are at their peak smoothness.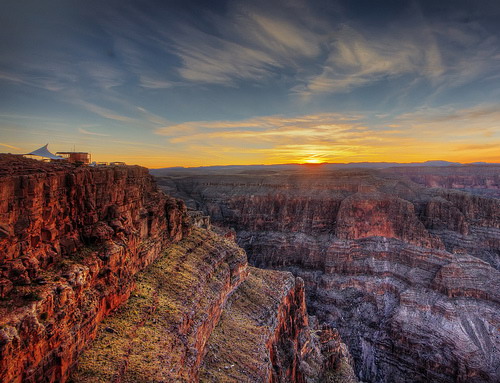 What to Bring & Wear
These flights cover a lot of ground and you'll see a lot of stuff. Definitely bring your camera, camcorder or smart phone. I've taken some of my best pictures of the canyon from a helicopter. You will, too. Remember to charge all your electronics prior to take off.
West Rim climate is one of extremes. Summers are very hot, with temperatures cracking 100 degrees regularly. That said, this is an aerial tour, which means you'll not be exiting the aircraft so you don't need to be as prepared for the heat as passengers who opt for a landing trip. Even so, I recommend the following:
Hat
ChapStick
Water
Lightweight, long-sleeve shirt
Sunglasses
Snack
That may seem a little over the top but you'll have your bases covered.
RSVP
The Golden Eagle is a popular tour and is often sold out. Be savvy ad book your air tour in advance. During summer months, I recommend at least 72 hours but if you can put a week between when you book and when you fly, you'll be good to go. Winter months are less busy, but I still recommend booking 72 hours in advance.
Cancellation Policy
I love Papillon's cancellation policy. They give a full refund if you cancel with 24 hours of your departure date/time. You can also move your flight if there's availability. Full refunds are also given for weather cancels.
Best Deals
The best price for this helicopter tour is on the Internet. More specifically, book it direct on Papillon's website. Through my research, I've found their prices to be the cheapest. I know it's counter-intuitive, but it's true. That said, make sure you complete the entire transaction on the web. Failure to do so will nullify the Internet promotional price.
Have a grand day,

P.S. I rate the top 3 Grand Canyon helicopter tour companies that fly out of Las Vegas, NV. Click here to see who's my #1 choice. .
Tweet
Follow @keithkravitz