Helicopter & Gold Mine Tour from Las Vegas

Looking for some real, heart-pounding, adrenaline-spiking adventure? Try Papillon's El Dorado Mine Helicopter Tour. This trip drops you off deep in Southern Nevada's backcountry and comes with an authentic guided gold mine tour. Not enough for you? Then add an ATV ride, a horseback trek or a kayak adventure into the mix. If you're looking for a true western experience, this is the package for you.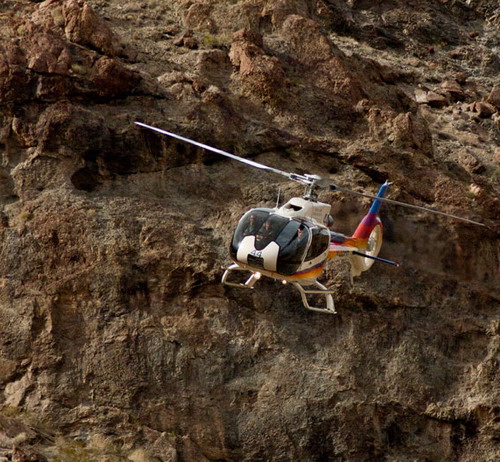 The trip departs every day of the year (including all major U.S. holidays) from Las Vegas. It flies over Lake Mead, Hoover Dam, the Black Mountains, Grapevine Mesa and Grand Canyon West (including the Skywalk, Guano Point and Eagle Point) before touching down on a helipad at rugged El Dorado Canyon.
You'll be met by a professional tour guide who will take you on your tour of the now-defunct Techatticup Mine, the oldest and most famous gold mine in Southern Nevada. You'll start at the old mill site where raw ore was dumped into a stampmill, crushed into powder and mixed into cyanide tanks in order to get the gold and silver to separate from the ore.
Onward, you'll enter the tunnel and walk 500 feet toward the center of the Earth on a path lit by a string of prospector lanterns and rope guardrails. The temperature stays at 70 degrees, which makes it totally refreshing during the summer months. By the time you complete the circuit, you'll have experienced the same conditions that miners of the 19th century did.
Total tour time: 6 hours
El Dorado Canyon
The town of Nelson, NV, is where El Dorado Canyon is located. It was first inhabited by the Puebloan Indians before the Spanish Conquistadors arrived in 1775 in their quest for gold. Ironically, the Spaniards missed the canyon's gold-enriched ore veins and moved on.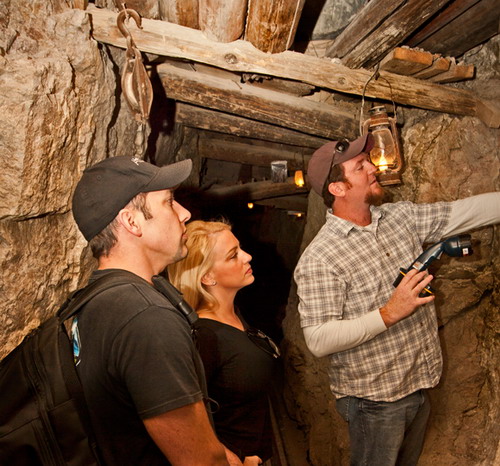 In the 1850's, a new breed of prospector descended on the area and successfully sluiced gold in area streams that fed the Colorado River. Initially, the goldfields were kept secret until steamboats made their way up from Yuma, AZ. Word got out about the incredible amounts of gold being mined, which resulted in a deluge of opportunistic miners. By 1861, the miners hit serious pay dirt, striking the main gold vein that became Techatticup Mine.
The Mine grew to become the most successful in the area, belching up millions of dollars in gold, silver, copper and lead. It closed in 1945 and remained abandoned for five decades, during which Nelson turned into a ghost town. In the late 90's, the Mine and the town were purchased by a couple who have restored the municipality into a tourist destination.
Options
This is the #1 Papillon tour when it comes to add-ons. Your options are: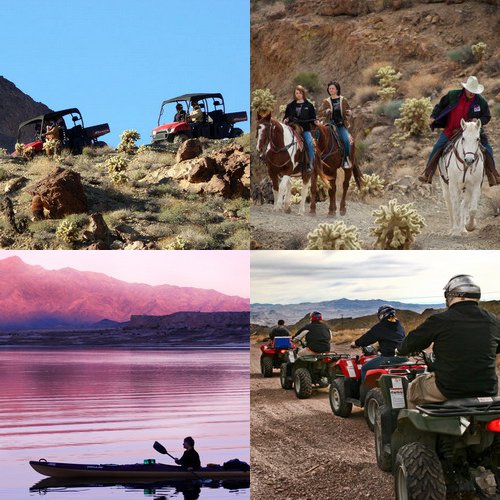 All-Inclusive
The El Dorado Tour (also known as the Ranch Landing Tour) includes complimentary Las Vegas hotel pick up and drop off, lunch, a professional guide, taxes and Park fees. I do recommend that you dress based on weather. Summer is hot so it's best to bring a hat, water, sunglasses, sun block, running shoes and a lightweight long-sleeved shirt. Winters get chilly so wear long pants, sturdy shoes, a hat, and a medium-weight jacket. DVD of the helicopter ride to the canyon costs extra.
The El Dorado Canyon tour is very popular. Don't wait until the last minute to book it. I reckon it's best to reserve your seats at least one week in advance. Definitely don't book it in Las Vegas or through the hotel concierge as you'll pay a premium. Papillon offers a front-seat upgrade on the helicopter. I don't recommend doing it. Helicopter seating is by weight so you won't know where you sit until you take off and you might get a front seat anyhow without paying extra.
Deals
The best deals on this tour are on the Internet. More specifically, the best deal is on Papillon's website. It sounds odd but it really isn't. Think of it as buying direct. The one thing you DO need to be sure of is that you book the tour online in order to qualify for the Internet discount. Failure to do that might possibly end up in you being charged full retail!
Cancellation policy: Get a full refund if you cancel your flight 24 hours prior to take off. Weather cancellations also get a full refund.
Have a grand day,

P.S. I rate the top 3 Grand Canyon helicopter tour companies that fly out of Las Vegas, NV. Click here to see who's my #1 choice. .
Tweet
Follow @keithkravitz