Papillon Grand Canyon Helicopters Review

When it comes to Grand Canyon helicopter tours, Papillon is my first choice. First and foremost, the company, which has been in commercial operation since 1965, is the only one that has been consistently able to offer the lowest prices on the best tours. Other air-tour companies have tried to compete with Papillon on price, but inevitably they fail. Indeed, price is important. But it's just one of a number of parts that make Papillon the undisputed leader.
Safety
Helicopters are highly technical aircraft to maintain and fly. That's why safety is so important. Papillon goes above and beyond when it comes to ensuring the safety of its guests. Currently, the company, which safely transports more than 600,000 passengers a year, is in good standing with the Tour Operators Program of Safety (TOPS). The organization requires members like Papillon to meet a set of flight safety rules and regulations that exceed those required by the Federal Aviation Administration (FAA). In addition, Papillon is also certified to fly projects for the U.S. Department of Defense and the Department of the Interior - now that's an official stamp of approval if there ever was one!
Fine Print
Papillon's cancellation and change policy is clear and fair:
You can change your flight anytime within 24 hours of your scheduled date and time of departure;
You can cancel your flight within 24 hours of your scheduled date and time of departure.
If your flight is changed and/or cancelled due to weather, Papillon will:
Reschedule your flight for the next earliest time that day;
Per your request, reschedule your flight the next day or later;
If rescheduling is not an option, Papillon will give you a 100 percent refund.
I've reviewed the cancel policies of the top canyon tour companies and none offer terms that match Papillon's.
The importance of a clear and fair cancellation policy is that it allows you to book your helicopter tour in advance. This is important because it lets you plan your trip with confidence. By contrast, the other less beneficial option is to purchase your flight at the destination, which I strongly don't recommend because:
You'll pay more;
You won't get the flight you want;
You won't get the time and day you want;
You might not fly at all because helicopter tours regularly sell out.
The benefits of booking ahead of time are huge so take advantage of Papillon's cancellation policy and purchase your tour at least one or two weeks ahead of time. It's the smart thing to do and it will save you money.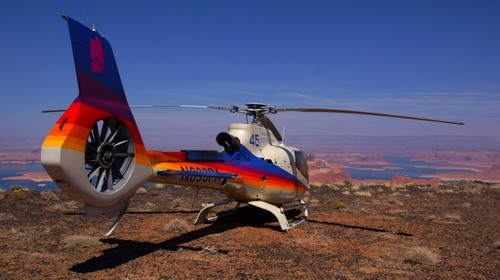 Deals!
Papillon's prices are the lowest in the business but you can still get them cheaper. The first step is to book in advance, followed by purchasing your seats direct online from the tour supplier (e.g. Papillon). Truth of the matter is Papillon is the only entity in a position of power to offer the lowest rates and run the best promotions. Knowing this, I urge my readers to avoid "big box" travel sites like Travelocity, Priceline and Expedia and shop directly with Papillon. The key thing you need to remember here is:
"Complete your transaction online in order to qualify for the Internet discount."
Failure to complete the transaction on Papillon's website (e.g. calling customer service or purchasing tickets from the hotel concierge) will result in you paying full retail price.
Destinations
Papillon Helicopters service the West Rim and the South Rim, the National Park's two prime destinations. The company's West Rim (a.k.a. Grand Canyon West) flights originate from Las Vegas, NV, and various heliports in the metropolitan as well as at Boulder City Municipal Airport (a 25-minute shuttle ride from The Strip). South Rim tours take off from Grand Canyon National Park Airport in Tusayan, AZ, a town situated minutes from Grand Canyon Village. There are no helicopter flights between the rims. Relatedly, there are no direct helicopter flights from Las Vegas to the South Rim - to do this you need to book this airplane/helicopter combo package.
Types of Helicopters
Papillon operates one of the largest mixed fleets of helicopters in the world. Primary aircraft used include Bell, Astar and the EcoStar 130. Each of these helicopters have been customized for air tourism and are more than ideal for the job. However, the chopper that I prefer is the EcoStar. Key reasons for this are:
25 percent more cabin space;
Theater-style seating (every seat is the best seat!);
Fenestron tail rotor (quieter, smoother ride);
Excellent climate control (you'll appreciate this during summer and winter).
In most cases, Papillon will use an EcoStar on its landing tours, while air tours will run the gamut of the fleet.
All-Inclusive
Papillon's tours come with everything, including:
Free hotel pick up/drop off;
Lunch (except air tours);
Professional guide service;
Pre-recorded narration (11 languages!);
All taxes, fuel surcharges and park entrance fees.
That's the great thing about Papillon: the price you pay at check out is the final fixed cost and not a dime more.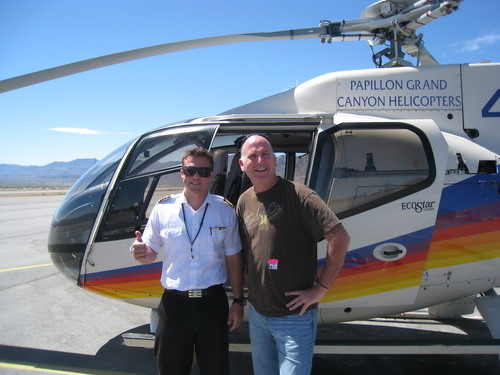 Types of Tours
Papillon offers more tours (40 to be exact) than any of its competitors. There are two kinds: Aerial and landing. The former are great for visitors who have limited time and want to quickly sample the National Park's key points of interest. Landing tours combine the best of air and ground tours into one package. They cost more and take more time (between 4 to 6 hours) but you get a much better experience for the money.
West Rim
Papillon's air and landing tours follow the same flight plan to the West Rim. En route, you'll see:
Lake Mead
Hoover Dam
Colorado River
West Rim
Grand Canyon Skywalk
Once inside the Park, air tours will begin to circle back and return to Las Vegas. Landing tours, however, will either land at the bottom or the top of the canyon.
Papillon's most popular bottom-landing package is the Grand Celebration. It settles on the base and comes with a Champagne picnic. This trip can be extended to include a boat ride and an all-access pass to the inimitable Grand Canyon Skywalk.
The other popular landing tour stops at the top of the rim and includes up to 3 hours of exploration time and a VIP pass to the Skywalk. In addition to the glass bridge, other things you'll want to see are:
Eagle Point
Guano Point
Hualapai Ranch
Indian Cultural Center
Click here for a complete list of Papillon's West Rim offerings.
South Rim
Papillon offer two options at this rim:
30-minute flight - Goes from the South Rim to the North Rim and back. Includes Dragoon Corridor;
50-minute flight - Does everything the shorter flight does plus the East Rim and all its associated sights.
South Rim landing tours are limited because the National Park Service (NPS) in conjunction with the Federal Aviation Administration (FAA) ban aircraft from flying below the rim. Having said that, Papillon does offer a wonderful air/ground tour called the Sunset Safari, which combines a 30-minute flight with a Jeep 4x4 tour inside the Park that stops at the edge for a sunset.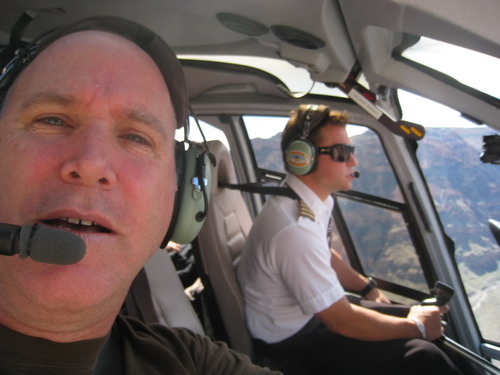 Conclusion
I hope you found this review of Papillon Helicotpers useful. When I book air tours, I always start with Papillon. They are the best in terms of selection, safety, aircraft and price. I'm also a huge fan of their cancellation policy and the fact that the price I pay is fixed and will not change. So the bottom line is this: if you are looking for a first-rate helicopter ride, go Papillon. I've been using them for years and each time they've surpassed my expectations.
Have a grand day,