Mustang Helicopter Deals

Mustang Helicopters. Nobody touches their prices when it comes to using deluxe EcoStar 130 helicopters for Grand Canyon and Las Vegas Strip tours. Actually, there's a reason for that: Mustang is a subsidiary of Maverick Helicopters (go here for Maverick review), the tour operator with one of the US's largest fleets of modern EcoStars.
But here's where it gets interesting.
Mustang is Maverick's "discount" helicopter tour company. I've flown both and they're identical in terms of quality and service. The key differences between the two are:
Price: Mustang is cheaper
Terminal Location: Mustang flies out of the Henderson Executive Airport, which is a 15-minute shuttle ride south from Mandalay Bay on the Las Vegas Strip.
Just when you thought Mustang couldn't get any better, they roll out a new tour called the FREE SPIRIT and shave an additional $60 off their Grand Canyon bottom-landing package. To illustrate, I put together this screenshot: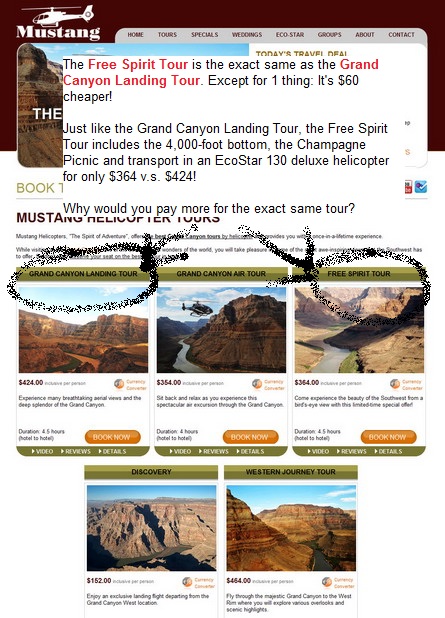 The standard bottom-landing flight (a.k.a. Grand Canyon Landing Tour) retails on the Net for $424. The Free Spirit, which is identical, goes for $364. That's a $60 savings per person! If a party of two books, you keep $120 in your wallet. If four of you fly, that's $240! Not only is this tour priced right, but it's the best way to experience the canyon. Here are details:
Departs Henderson Executive Airport.
Flies over Lake Mead, the Hoover Dam, Grand Wash Cliffs, Fortification Hill.
Lands 4,000 feet at bottom of canyon adjacent to the mighty Colorado River.
Includes Champagne Picnic
Complimentary hotel pick up and drop off
Total tour time: 4 hours
Book This Deal
The Free Spirit Grand Canyon helicopter tour is only available for purchase on Mustang's website. I suggest you RSVP at least three days before you desired departure date. However, because this is a hot deal, I'd consider booking seven days out. Same-day bookings are nearly impossible to get unless you're a solo flier.
Have a Grand day!

P.S. Who doesn't like a discount on Grand Canyon helicopter rides? I am certain I do. And so do all of my friends, family and clients. Seems, however, that you have a coupon website showing up anytime you turn around. Some good, most bad. The issue is most of their offers aren't any good or have expired or must be used in conjunction with something else. But not on this post, friends. My discounts have all been confirmed and have an acceptance rate of 100% by tour companies. No more getting excited about a deal just to learn you have to be an AMEX Black Card member. For those of you still weighing your air tour options, take a look at my canyon air tour ratings. I rank the best 3 operators according to safety, price and selection. Fly anyone of them and you can't go wrong.
Tweet
Follow @keithkravitz