Las Vegas-based
Maverick Helicopters
, a leader in specialty and luxury air tours, just opened the doors of it's new, 37,000-square-foot terminal as it continues to grow at a pace that could well make it the leader in all-inclusive chopper and plane tours to the Grand Canyon.
The terminal, located at the Henderson Executive Airport in upscale Green Valley, is 15 minutes south on Las Vegas Boulevard (a.k.a. The Strip) at 1620 Jet Stream Drive. The sleek, modern building will house corporate offices, meeting rooms, a hangar, a cafe and a gift shop.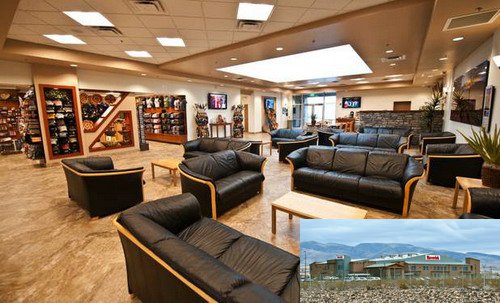 "We have amazing customers who deserve the best and great employees who are dedicated to providing our customers with a world-class experience," said John Buch, president of Maverick Aviation Group in a press release touting the new location. "This modern building is a tribute to both."
Like a Vegas Ultra Lounge!
In true Maverick style, the passenger lounge's interior is a like a high-end Vegas luxury lounge. Furniture consists of deep, comfy leather couches and chairs, Norwegian pinewood coffee tables, skylights, an eye-catching slate fireplace and a slew of high-definition plasma TVs playing HD video of the canyon.
"The lobby is the lap of luxury," said Keith Kravitz, owner of Grand Canyon Helicopters. "It's unmistakably Maverick, which understands it brand and successfully rolls it out into everything it does."
The original Maverick terminal, which is across from the Mandalay Bay Resort & Casino and adjacent to McCarran International Airport, will stay open to handle the company's highly successful Las Vegas Strip tours.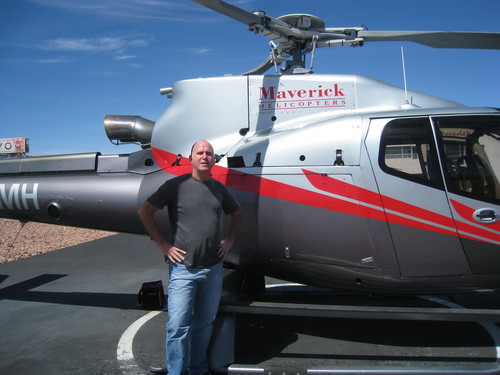 "The Strip flyover is the best 15 minutes of your life," said Kravitz. "The chopper goes over Freemont Street, the Stratosphere Tower, the Bellagio Fountains, Paris' Eiffel Tower, MGM's Emerald City and Luxor's Sphinx. It's a one-of-a-kind adventure that Maverick does best."
The original terminal will also be used for charter, group and wedding tours.
Company officials expect the Henderson terminal to handle between 20 to 40 fixed-wing airplane and helicopter flights a day. Project those numbers out to a year and they really add up. Based on most recent data provided by the Federal Aviation Administration and McCarran, Maverick flew a whopping 233,065 passengers from McCarran and 97,272 guests from Henderson, making the tour operator the largest operating from those two airfields.
The Maverick growth trajectory is staggering when you consider it's humble beginnings in 1995. Back then, CEO Greg Rochna and his wife Brenda opened Maverick Helicotpers with just two aircraft. Fast-forward to the present and the company now operates the largest fleet of ECO-Star 130s in the world. In fact, they've just inked a deal that brings 10 new ECO-Star T2 copters to the fold at the end of the year with an option to purchase 40 more.
"We continue to choose the EC130 ECO-Star product because it is made for the tourism industry," said Greg Rochna, chairman and CEO of Maverick Aviation Group in a statement announcing the new fleet additions.
Making of a Super Chopper!
The ECO-Star is not your ordinary helicopter. These birds are designed specifically for sightseeing, and come equipped with 25% more cabin space, theater-style seating, 180-degree wraparound windshields and a Fenestron tail rotor that reduces noise to a whisper. One-upping this, the T2s bring to the fore a stronger engine, better fuel efficiency and the capacity to carry seven people.
Maverick Helicopter is a part of Maverick Aviation, which also owns Mustang Helicopter, a budget helicopter product, and Maverick Airlines, which operates several 19-passenger, twin-engine Beechcraft 1900D aircraft for direct flights to both Grand Canyon's Tusayan airport (South Rim) and Grand Canyon West on the Hualapai Indian Reservation.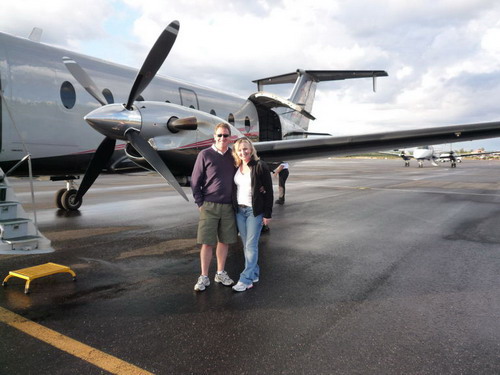 "Lots of Vegas visitors want to visit the South Rim," Kravitz said. "To do this, you've got to take an airplane, and there's not better way to do this than aboard one of Maverick's Beechcrafts."
The South Rim flight takes 45 minutes and comes with lunch and a guided ground tour by luxury bus.
To West Rim or South Rim?
While we're on the subject of destinations, there are two: The West Rim and the South Rim. Travelers seeking thrills and adventure go with the West Rim, which is the only place where helicopters are permitted to fly to the bottom. It's also home to the Grand Canyon Skywalk, the glass bridge that lets you walk 70 feet past the edge. The South Rim, which purists call the real Grand Canyon, is the place for scenic beauty and nature. Maverick services both rims, and also has a South Rim terminal from which all National Park, AZ, heli flights start.
"Maverick's South Rim chopper rides are phenomenal," Kravitz said. "Each is conducted aboard an ECO-Star. Flights go all the way to the Park's eastern boundary and fly back along the North Rim and through the Dragoon Corridor. No other form or transportation lets you see as much canyon as one of these helicopters."

Have a GRAND day,

P.S. There are a number of tour operators that fly the National Park. Click air tour reviews and see how I rank the top 3 based on safety, quality and price.
More articles about Maverick Helicopters: