Las Vegas Tours

Nearly 40 million people a year visit Las Vegas and the number keeps climbing. For good reason, too. Vegas is a destination with lots to do. Dining, shows, and gaming top the list of must-do's. But did you know that the "Entertainment Capital of the World" is also a hotspot for tours to the Grand Canyon?
How Far is the Grand Canyon from Las Vegas?
There is a number of Grand Canyon helicopter companies based in Las Vegas. They run the gamut, from budget to platinum. Sundance is at the top of the scale. Their tours are premium and they are worth every cent.
The West Rim is 120 miles from Vegas and the South Rim is 277 miles. These are the only two places where Las Vegas tours go. To put things in perspective, here are some travel times:
West Rim
Bus. 2.5 hours
Helicopter. 45 minutes
Airplane. 25 minutes
South Rim
Bus. 5.5 hours
Helicopter. N/A
Airplane. 45 minutes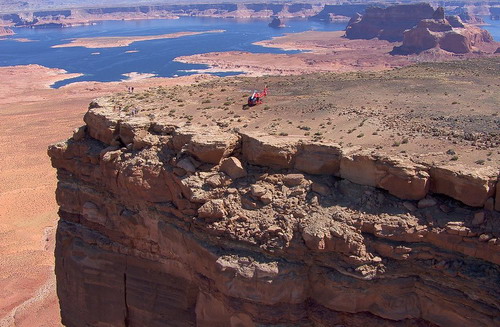 West Rim or South Rim?
This is the question that confronts every Vegas traveler. Determining which destination to visit is actually a simple process:
Go to the West Rim if you want thrills and attractions.
Go to the South Rim if you want natural beauty and stunning scenery.
Go to the West Rim if you have limited time or want to sample the canyon.
Interestingly, there is not a huge price difference between the two rims.
Las Vegas Grand Canyon Tours
There are many ways to experience the Grand Canyon. You can do it on horseback, in a Jeep, atop an ATV, or on foot. I'm only going to address the most popular and affordable tours that deliver max value. Here's my list of all-stars:
Vegas - #1 for Grand Canyon Trips!
Las Vegas tours to the Grand Canyon are a fun, exciting, and inexpensive way to visit the best of the Seven Natural Wonder's of the World. The West Rim is only several hours away and makes a perfect day trip for travelers short on time. This rim is also the only place where you can fly to the bottom. The South Rim is also within striking distance by bus or airplane. I strongly recommend that if you make it all the way to Vegas, you owe it to yourself to see the canyon. It's the one attraction that will stay with you for life.
Make it a GRAND day!

P.S. The tour business in Vegas is hyper competitive. This is good news because it means lower prices. But buyer beware. Not all trips are created equal. Take a look at my canyon tour reviews. They will get you pointed in the right direction.
Tweet
Follow @keithkravitz