Grand Canyon West - Key Things You Need to Know

As temperatures heat up, so does the best 1-day rafting tour out of Las Vegas. Not many travelers are aware of this one, but it's the trip that starts with a helicopter ride and ends with a dramatic float down the Colorado River.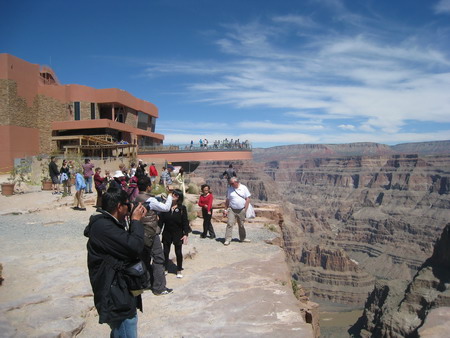 Grand Canyon West Packages
Grand Canyon West, also know as the West Rim, is a vast landscape that is so epic in scale that it simply must be seen with your own eyes in order to comprehend it. Fortunately, with the help of the Hualapai Tribe who own and manage this part of the Grand Canyon, you can now experience this destination in all its unspoiled and untamed glory.
To enjoy this sacred land, the Tribe has put together these four admission packages:
Hualapai Legacy Package. Price per person is $29.99. Includes hop-on-hop-off shuttle bus to all of Grand Canyon West's scenic vistas like Eagle Point and Guano Point as well as full access to the Indian Cultural Village. Your adventure concludes with a visit to Hualapai Ranch where you will enjoy modern-day hospitality, entertainment and dining.


Silver Legacy Package. Same as the Legacy package except it includes a delicious meal prepared by the Hualapai Tribe at any one of the three main viewpoints during your tour. Prices start at $41.95 per person.


The Gold Legacy Package. Comes with everything the Legacy and Silver Legacy packages offer plus a pass to the Grand Canyon Skywalk, the glass-bottomed, horseshoe-shaped walkway that sits perched 4,000 feet above the canyon floor. Price for this package will run you $70.95 per person.


Hualapai VIP package. Includes a walk on the Skywalk bridge, one meal at a viewing location, a private small group tour of the Grand Canyon West and an authentic Native American performance. You will also meet up with the cowboys at the Hualapai Ranch for an Old West style wagon ride This limited availability package starts at $325.00 per person.
The Future of Grand Canyon West
The Hualapai have big plans for Grand Canyon West. The Skywalk, for instance, will be built out to include a movie theater, museum, a lounge for VIP's and a variety of restaurants. After that, this 9,000-acre area will be developed to include hotels, more restaurants, a championship golf course and possibly a cable car that will take visitors to the Colorado River.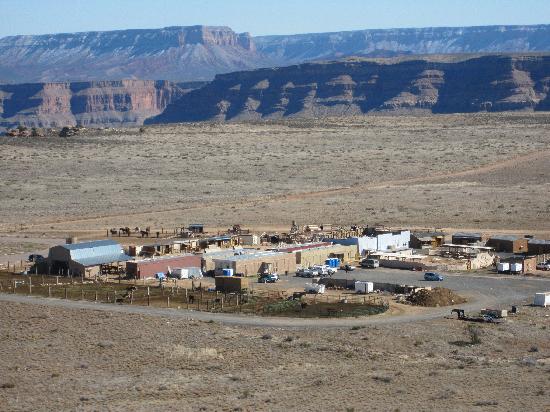 West Rim Tours
I don't recommend self-driving to Grand Canyon West. The last 10 miles to the West Rim are over a treacherous dirt road. If you go for it, rent an SUV, top off the gas tank and make sure you have a spare tire. Bring lots of cash, too, as you will be charged to park your vehicle and take a bus from the parking lot to the main entrance. No ATMs are available.
The more practical way to get to the Grand Canyon West is to book a tour from Las Vegas. The most popular are:
Bus. Takes about 2.5 hours to get there. Skywalk is optional. Includes lunch.
Helicopter. My personal favorite. Flight time is 45 minutes. This rim is the only place where you can fly to the bottom of the Grand Canyon. Boat rides on the Colorado River are available.
Airplane. Fastest way to get to the rim (25 minutes). Options include Skywalk passes or basic West Rim ground tour.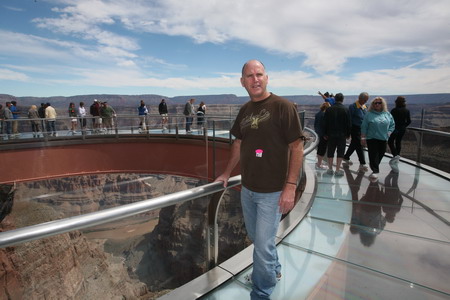 Perfect Vegas Day Trip!
Grand Canyon West is a fabulous day trip from Vegas. Just 120 miles to the east, the destination plays host to some of the most magnificent parts of the canyon. Its number one attraction is the Glass Bridge and its most popular activity is helicopter flights to the base. If you are in Las Vegas, spending at least one day out here is an absolute must-do. Especially considering that it's the easiest way ever to sample the legendary Grand Canyon.
Have a Grand Day,

P.S. The most thrilling way to experience Grand Canyon West? Take a Grand Canyon helicopter tour to the bottom. Only available at the West Rim, this is the chopper ride that puts the rest of your bucket list to shame.
Tweet
Follow @keithkravitz