1-Day Rafting & Float Tours

The Colorado River runs through Grand Canyon National Park for 277 miles, offering travelers a variety of rafting tours ranging from white-water to smooth-water. Here are the best float trips at the West Rim and the South Rim.
West Rim Rafting Tours
This rim is located 120 miles east of Vegas and makes a great rafting day trip. Choose from an upriver float or one that starts at the base of Hoover Dam.
Upriver trips involve taking a thrilling helicopter ride to the bottom of the canyon. Package prices are based on the type of transportation used to get to the rim. Here are your choices:
Hoover Dam float trips come bundled with a helicopter ride to the bottom of the West Rim. This chopper will then fly you to Boulder City for a bus ride to the Dam whereupon you'll commence your 11-mile raft ride to Willow Beach in Arizona. More info about this Las Vegas rafting tour here.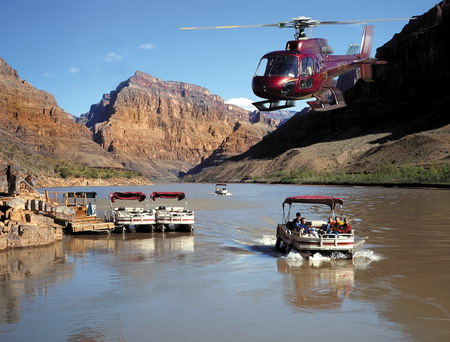 South Rim Rafting
South Rim float tours go from Grand Canyon Village by either bus or plane to Page, AZ, home of Glen Canyon Dam. The plane version also includes a Jeep tour to Antelope Canyon.
The 15-mile float trip wends its way down the Colorado River to historic Lee's Ferry. En route, you'll pass through beautiful Horseshoe Bend, see ancient petroglyphs, and witness an abundance of wildlife. The bus back includes sightings of Painted Desert and the Navajo Indian Reservation.
Note: Las Vegas visitors can't do these tours unless they spend a night in the National Park.
All Ages Rafting!
The great thing about Grand Canyon float trips is that everyone can do it. Kids as young as four are welcome. Seniors, too. These trips run from April to November. During summer months, especially July and August, I recommend packing the following:
Sun block
ChapStick
Water
Hat
It's not a bad idea to bring an extra set of dry clothes if you take the longer canyon float tours.
The Equipment
The boats used on these trips are remarkable. They can seat up to 19 people and come decked with dual outboard motors. Hoover Dam and South Rim tours use rubber-pontoon boats while West Rim ones use steel-pontoon ones (steel flat bottom boats coming soon!). Each of these watercraft are safe and sturdy and handle the river with ease.
River Guides
The canyon has five life zones and an incredible diversity of plan and animal life. For example, there are some 1,700 plant and 34 mammal species. The trophy is the Big Horn Sheep. You can read a book and try to scope these items yourself. Or you can ask your guide. I tend to pick the later, especially because these guys are so knowledgeable and friendly. It also helps that they know the river like the back of their hand and are trained in CPR and first aid.
Let's Go Rafting!
Grand Canyon river rafting is fun for the whole family. No other activity lets you see the canyon from the bottom up. I can't think of a better way to spend a day. I've done 'em all and these are my favorite ones:
Make it a GRAND day!

Tweet
Follow @keithkravitz