How to Get Front Seats on Grand Canyon Helicopters
Fast Facts

I get a lot of inquires about how to get front seats on a helicopter tour. Fact of the matter is it boils down to luck, weight and planning.
Most helicopters have six seats. Some specially equipped EcoStar 130's have seven. Do the math and you have either a 1-in-6 or a 1-in-7 chance to ride in the front.
(Go here for more information on the types of helicopters that fly the Canyon.).
The reason why front seats can't be "reserved" is because helicopter seating is based on the weight of all passengers. That weight also needs to be balanced evenly in the cabin for safety.
Helicopters also have a maximum payload. So when reservations come in, we are constantly shifting passengers among aircraft in order to meet the payload.
The result is it's nearly unknown which helicopter or who you and your group are flying with until check-in. Understanding this has its advantages when it comes to getting the front.
See, when you book your helicopter tour online and in advance, you have the option to request front seats. Most people ignore or overlook this request. I suggest you don't.
The cost for the front-seat upgrade is $50 per person. You will not be charged for this as you book online. It's simply a request that's attached to your ticket.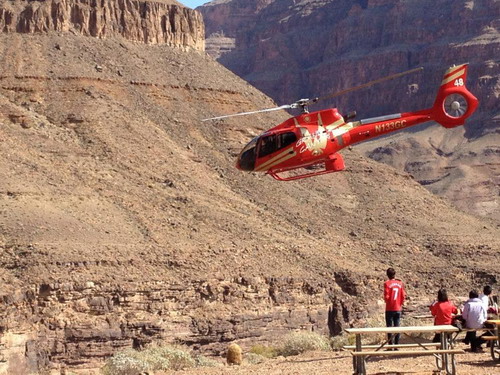 Now, when arrive at the heliport and check-in, you'll be asked by the check-in attendant if you want the front seat that you requested. Of course, it's dependent on the weight of all passengers on that aircraft, but I can tell you from experience that every effort will be made to get you in the front.
If you accept the front seat, you'll be charged for it immediately. However, if you decide not to take the front seat, you can refuse and you will not be charged for it. It's up to you. You're in the proverbial "driver's seat."
For those who like to take chances, you could just show up and leave it to fate, which isn't a terrible idea as you have a 1-in-6 chance of flying in front anyhow. Really depends how important the front is to you.
"If you do book online and request the front seat, email me at grandcanyonkeith@gmail.com with your confirmation # and I'll send you coupon that will save you $10 per front-seat request." - Keith
If you have further questions about front seats or anything else concerning helicopter tours, click here and chat with me now. Or call 702-530-8687 from 7 a.m. - 5 p.m. PST.
Have a grand day,

P.S. I rate the top 3 Grand Canyon helicopter tour companies that fly out of Las Vegas, NV. Click here to see who's my #1 choice. .
Tweet
Follow @keithkravitz