How to Get Live Support

My goal when I got into the Grand Canyon tour business was to create an informational website wherein travelers could educate themselves on how to confidently book a helicopter tour online. It's still my primary mission.
But after providing live chat and phone and email support to travelers over the years, I've come to the realization that there's a huge group of readers who do NEED live support to cut through the confusion of air tours out there.
Furthermore, there are a lot of you whose itineraries are too complex for the online booking process and so the "self-serve" option isn't an option. I know we're all under the impression that the Internet is the travelers' Holy Grail but if "complex" describes your situation than I can tell you straight up that the Web won't get it done for you.
Those of you who read my articles and have booked with me in the past are probably shocked by my suggestion that the Internet fails some travelers. I understand. But hear me out as I share an actual scenario where the live support I provided was critical to the success of one of my reader's bookings.
The Client
It was just the other day that I helped a gentleman in North Carolina square away his helicopter tour booking. It sounded simple at first. Group of five people. Las Vegas to the West Rim. Land at bottom. Partake in Champagne brunch. No problem. Then the "tricky" stuff entered the picture.
Turns out the booking was for him and his wife and another group of friends. Oh, and he was staying at the Golden Nugget while his friends were bunked at The Paris. For the flight to be a success, he said, they all had to be on the same aircraft.
That, folks, is a booking for a supercomputer! I can nearly guarantee that it will not be processed successfully if you do it online. So I jumped in. First, I gathered all the pertinent information. Then I manually entered it into the reservations system. Then I added notes that HIGHLIGHTED that the group was in separate hotels.
Devil's in Details
But it doesn't stop there. All Las Vegas helicopter tours include free hotel pick up and drop off and each hotel has a SPECIFIC place where you get picked up by the shuttle. Thus I had to create two separate trip confirmation letters for both parties that indicated the pick up locations and times (the one at Paris is earlier than the one at The Nugget).
Problem solved? Almost.
My North Carolina traveler also wanted window seats for two specific people in his group. Typically, this is a simple process. You simply make the request. But here we had five people and only two were interested in front seats. Back to the order I went. I notated the two travelers and tagged the booking as "Grand Canyon Keith." Between you and me, when I tag a booking I'm in essence getting preferential treatment for my clients. To wrap it up and put a bow on it, I emailed my reader one of my exclusive front-seat coupons.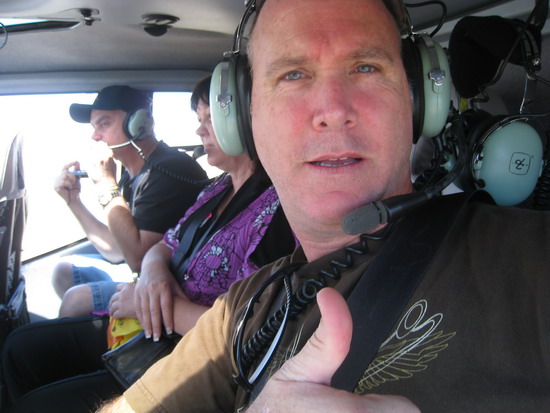 (Note: If you want a front-seat coupon, please contact me in live chat or by email. You'll have to have booked via my website and you'll have to provide your confirmation number. In the past I used to email the coupon to anyone who asked but too many folks were randomly stopping by and getting it and thus depriving my readers of the chance to get a front seat.)
I took a deep breath and announced that the booking was now in proper order. Not so. Turns out my reader was 6'-4" and was in obvious need of personal space. Boulder City was out. I didn't want him getting on a Bell Ranger, which is a smaller helicopter. He needed the much bigger EcoStar 130 so we updated his booking to depart from the Las Vegas Strip because it guarantees an EcoStar flight. Now everything was good to go.
Conclusion
I hope this article about me providing live customer support to my clients showed you the value of reaching out to me via live chat, email and/or phone when it comes to getting the perfect Grand Canyon helicopter tour. I'm still a huge fan of self-serve via the Internet and in many cases it's the great but primarily if you have minimal to no requirements. That said, things can get dicey even in that situation and I'll deal with that in the next article.
Need Help? Call Keith at 702-530-8687
Have a grand day,

P.S. I rate the top 3 Grand Canyon helicopter tour companies that fly out of Las Vegas, NV. Click here to see who's my #1 choice. .
Tweet
Follow @keithkravitz