Do Helicopter Tours From Las Vegas Go to the South Rim?

I wish! But, alas, no. The distance from Las Vegas to the South Rim is nearly 300 miles, which puts the rim out of range. I used to dream of a Grand Canyon helicopter flight that refueled mid-way before continuing on to Grand Canyon Airport, but the logistics and airspace regulations are too complicated.
South Rim Tour Options
For me, helicopters are at their best when flying up, over or between things as opposed to being used for transport. If your goal is to get from Point A to Point B, drive, take a plane or ride a bus. Which brings me to my point: If you want to take a South Rim heli ride from Las Vegas, you've got three options:
The drive from Las Vegas is 5.5 hours. If road trips are your thing, have at it. The highways are good and the signage is clear. Most rentals come with GPS units - input Grand Canyon Airport and you'll end up at the front gate of the National Park. Don't rent a convertible during summer. By the time you get to the canyon, you'll be red as a lobster and parched.
South Rim Airpland And Heli Combo!
The airplane and helicopter package is my all-time favorite. Flights take 45 minutes and fly over Lake Mead and Hoover Dam. Deplane with a fresh set of legs and take off on one of the world's most magnificent heli rides. The Dragoon Corridor, the widest, deepest part of the canyon, defines this particular trip before turning back at the North Rim. On terra firma, you switch to a bus and explore the park from the ground.
The South Rim bus and helicopter combo is perfect for folks who have an entire day to devote to touring. Today's motor coach makes the journey super comfortable. Cabins are huge and come with A/C, recliner-style seats, on-board restrooms and pull-down blinds. The driver is also your guide. Most trips include a Hoover Dam photo stop. The chopper segment is identical to the one included in the airplane package.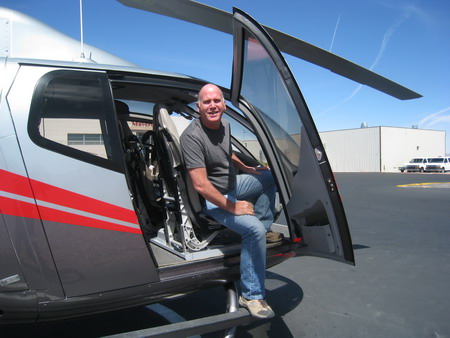 Avoid Last-Minute Bookings
I strongly recommend that you book any South Rim helicopter tour from Vegas in advance. To be safe, at least a week from the day you want to fly. Heli tours are popular during spring and summer and frequently sell out. You can try to get a same-day flight. I've lucked out and have gotten folks on a last-minute tour, but that's the exception and not the rule.
Unfortunately, helicopter tours from Las Vegas don't go to the South Rim. The alternatives, though, are quite impressive. My pick is the airplane and helicopter combo. I like how fast it gets you to the South Rim and the fact that en route you'll have seen 50 percent of the canyon! The bus is another if you are willing to dedicate a full day. Self-driving, too, is a consideration, but in this case I'd rather leave the "driving" to a professional.
Have a grand day,

P.S. I rate the top 3 Grand Canyon helicopter tour companies that fly out of Las Vegas, NV. Click here to see who's my #1 choice. .
Tweet
Follow @keithkravitz