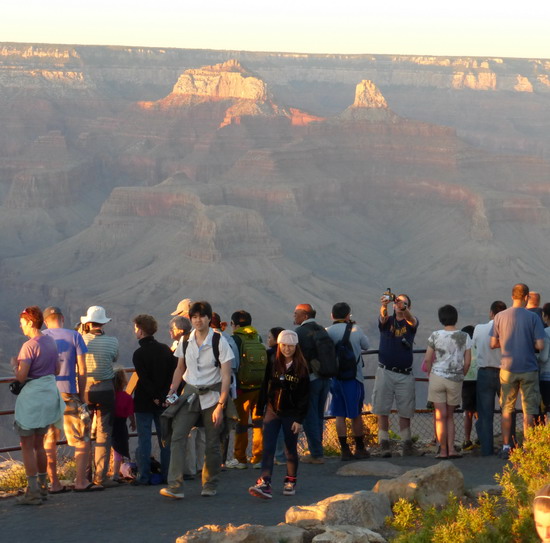 Nothing matches up to the "golden hour" at Hopi Point at Grand Canyon National Park. The crowds are testament to this fact.
I've been a number of times and I never cease to be amazed. There's a certain sublime aspect to it that words just can't depict.
But pictures can.
If you are headed up to the Park this summer, make sure to fit in a sunset.
Best plan of action is to get up to your desired location about 30-40 minutes prior to the event.
I know it sounds early but other folks – lots of them – have the same goal as you. Thus get there early and you'll secure a decent spot.
And make sure you know the shuttle schedule. It's printed in The Guide, the free newspaper that the Park Service publishes.
Go here for more details on Canyon sunset viewing.
Another fabulous way to do sunset is via helicopter or airplane. I prefer the former but it really boils down to budget.
Tip: Book air tours in advance and pick the last flight of the day. That's the one that will get you into the "suns rays."
Go here for helicopter tours and here for airplane flights.
Travel on!