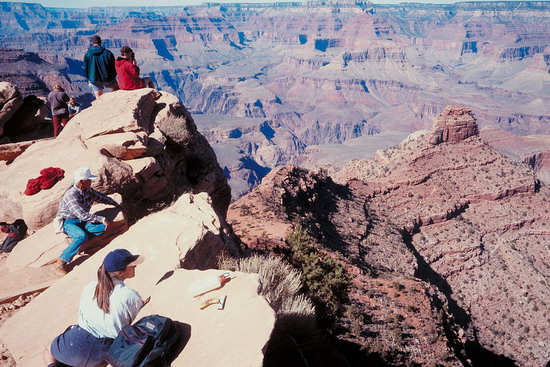 Now's that's what I'm talking about! No need to stay on the footpath. Hop over the wall and get your seat on the edge of the South Rim.
Based on this image, I'm not the only one with that idea. Is it safe? Hmmm…Yes, but like anything in life, there are risks. Use common sense and you'll be fine.
This also applies if you choose to hike below the rim. Many do the Bright Angel Trail or the South Kaibab. If that's you, remember it takes twice as long to get back up.
And please don't bother trying to get to the river and back. Especially during summer. I know it's tempting for some of you but in actuality it's a 5-to-7 hour hike – one way!
Where exactly these folks in the picture are is a guess but I'm thinking it's definitely somewhere at Grand Canyon South along the Rim trail (all detours off this flat trail are terrific!).
For those of you planning a trip to the National Park, might behoove you to take a look at this resource that shares what to do and see at the South Rim:
http://www.grandcanyonhelicoptertourreviews.com/things-to-do-south-rim.html
Going to the West Rim from Las Vegas? Then check out this article:
http://www.grandcanyonhelicoptertourreviews.com/west-rim-things-to-do.html
There are loads of things to do at both rims. My favorite, of course, are helicopter tours. The South Rim's got some great aerial trips while the West Rim's famous for landing tours.
Here's a list of my Top 3 helicopter tour companies:
http://www.grandcanyonhelicoptertourreviews.com/
That should get you started.
Travel on!